Outfits Calendar 2014 launched by Ashish Sahu and Neal Sahu
New Delhi, Fri, 14 Feb 2014
NI Wire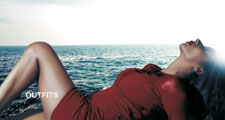 Every time one tears a leaf off a calendar, one presents a new place for new ideas and progress and fashion is always of the time in which one lives and not something standing alone. With this thought, Ashish Sahu Neal Sahu- the Fashion Photographer launched their fashion calendar OUTFITS at Zebaa Lounge which witnessed a huge amount of footfall at the show.
The event was very well appreciated by socialites and major figures of Fashion & entertainment world who were present at the launch like Shehnaz Hussain, Sagarika Deb- Pop Singer, Sandeep Marwah, AAFT Marwah Studios, Karan Modi ,Revlon Colour Plus, Colour Bar (Modi Group), Riya Diwar Gandhi- United Art Fair owner, Gunjan Gaur & Ishika Taneja ALPS Cosmetics, Sonia Bajaj- Fashion Designer, Leena Bidani Jewellery Designer, Josh Guraya Designer, Rajiv Gupta – Ex BCCI Umpire, Ghazal Sharma-Director of the brand Vage.
Shehnaz Hussain and Sandeep Marwah were the chief guest of the OUTFITS- Calendar launch which was followed by the fashion show by Surraj Kathuria and brand Mintblushdesigns by Sahil Gulati, Aamir Rajput and Shazmeen Khan.
At the time of the Calendar Launch Shehnaz Hussain and Sandeep Marwah in their words appreciated the work by Ashish Sahu and mentioned that India itself has a lot of young talent which is as good as the global fashion fraternity Ashish Sahu wanted the calendar to be one of the most stylish calendars across and he has managed to do that by ensuring every month has its own appeal and style, and matches up to international standards. The calendar will also go out to over 4,000 fashion houses and designers.
About Ashish Sahu: Ashish Sahu is a fashion photographer who deals with almost everything related to fashion, whether they are brand shoots, magazines, designer shoots, editorials, or covers. Though young in the industry, his amount of work has been highly appreciated. Photography for him is sheer passion and determination. Expectedly, he has never assisted any photographers or learnt photography from any institutes, and whatever he has achieved so far is because of his focus and determination towards his work.
He has so far worked with top fashion campaigns like Bridal Asia and many more. Brands like The World Tour, Anand World, Bridal Asia, Bunkaari India, Fiyya, Threesome, and Lakme India Fashion Week have been part of his campaigns.