Tarun Tahiliani's Spring Summer Collection 2014: Beyond imagination
New Delhi, Tue, 11 Feb 2014
NI Wire
null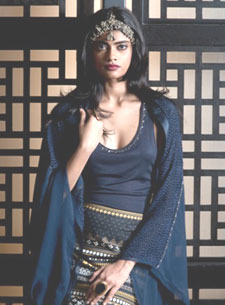 The Spring Summer Collection 2014 sets out to recreate the same sense of wonder. Using myriad ideas from sorbet colours to arcane techniques, this box transforms into that of Pandora's. Full of mystery and revelation; of languorous resort wear, each version surprising and unique in its entirety and yet part of this assorted collection.
With emphasis on prêt a porter, it focuses on exquisite separates that can be paired up to create various permutations and combinations that never get old. It takes you from the delicate land of European chintz to indigenous Bidri work to Jamawaar and abstract art. The multiple influences are translated into everything from a T-shirt and pencil skirt to a lehenga, kaftan or a sari because despite being Ready -To -Wear one style does not fit all.
Moving towards a more relaxed glamour it effectively uses summer cottons and sushi voile, fine thread work and chikankari that belie comfort in fashion. An understated elegance that brings to the fore the importance of dressing up in the day – be it ombre chiffon saris or kimkhab kurtas in sheer gossamer silk.
A cornucopia of colour teeming with vitality is an essential for our tropical summer. Indigo mustard and fuchsia frolic creating shades of the sunset. Bombarded by colours that personify the joie de vivre of an Indian festival; almost as a corollary there is the brahmanical restraint of black and white, ivory and beige.
The architectural wonder that is this collection comes through with the extensive use of levels, panels and layering. Creating sundry optical illusion it can be used to give an impression of height. The structured panels in flowing fabric allow a trompel'oeil effect. Adding a bottom cowl to a skirt or a layered cape kurta that sits elegantly on one's shoulder, the masters of drape have gone back to their roots and reintroduced custom draping in every day wear.
Traditional clothing with the ease of every day wear. Debuting in this collection the kurta comes with the twist of an attached dupatta. Modern in silhouette and draped like slouched luxury, it forms different levels in the same piece of clothing and moulds itself to the body. The concept kurtas go beyond imagination , asymmetrical, floral, abstract, draped, high slit, cut out, lace work; one is spoilt for choice.
null