CAIT welcomed Rajasthan government stand on FDI
New Delhi, Sat, 01 Feb 2014
NI Wire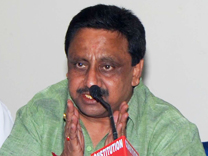 While welcoming the decision of Rajasthan Government for withdrawing permission for allowing FDI in Retail given by previous Government, the Confederation of All India Traders (CAIT), apex body of business community of India has expressed utter surprise over the changing colours of Union Government on this issue. The CAIT has strongly criticised the view expressed by Union Commerce Minister Anand Sharma that States cannot withdraw the permission. "Such a statement is unmatured, illogical and far from legal perspective",said CAIT.
CAIT National President B. C. Bhartia and Secretary General Praveen Khandelwal while complimenting Rajasthan Chief Minister Mrs. Vasundhara Raje for taking such a bold decision said that earlier it was Mr. Sharma himself who made a categorical statement that FDI in Retail is a State enabling policy and as such the State Governments have a right to review the decision. Moreover, the FDI in Retail is a policy which could be enforced by an executive order and as per rules, any executive order can be overturned or reversed by the same Government or successive Government. Therefore, neither Mr. Sharma nor Union Government can stop any State Government to reverse the permission of allowing FDI in Retail.
The CAIT also recalled that the notification of the Union Government for allowing FDI in Retail is yet to get legal authority since amendments proposed by RBI in FEMA Act are yet to be passed by Rajya Sabha. According to Section 48 of FEMA Act, any amendment in FEMA is required to be passed by both houses of the Parliament and only then it could be attain an authority.
Both Bhartia and Khandelwal advised Anand Sharma to desist from advocating the interests of MNCs. He is a Commerce Minister for India and not an Advocate for the MNCs but so far the conduct of Mr. Sharma particularly on this issue and that of on Free Trade Agreements with other Countries is more tilting towards protecting interests of the global companies which is very unfortunate.