Kejriwal announces scrapping of AR1 for Value Added Tax
New Delhi, Sat, 01 Feb 2014
NI Wire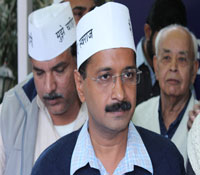 Chief Minister Arvind Kejriwal made a number of important announcements giving relief to traders while interacting with the various traders and markets organisations of the city in Delhi Secretariat.
Delhi government announces scrapping of the cumbersome Audit Report 1 (AR1) This lengthy and unproductive report running into multiple pages was mandatory for traders with an annual turnover exceeding Rs 10 crore. During the previous regime, the VAT authorities had prescribed this separate procedure, which was causing unnecessary hardships for traders. CM Arvind Kejriwal announced the immediate scrapping of the AR1.
Ceiling limit of composition scheme for availing a simplied VAT procedure for small dealers raised from Rs 50 lakh to Rs one crore : The CM announced raising of this limit from Rs 50 lakh to Rs one crore. This means that traders with a turnover of Rs one crore will now be eligible to get the benefit of a simplified procedure for calculating the VAT on goods sold by them. The simplified procedure allows small traders to pay one percent tax on their turnover. This benefit has now been extended to those traders also whose turnover is upto Rs one crore.
The CM has assured the traders that the government will consider by how much it can raise the ceiling to exempt small traders from VAT registration Currently traders with a turnover less than Rs 20 lakh do not need to register with VAT authorities. The CM has assured the traders and markets organisations that the government will consider raising this ceiling limit and will examine by how much.
p>CM has assured the traders that his government plans to discourage random visits/inspections by VAT inspectors to markets and trading organizations. The government is working on a process to simplify the VAT procedure by putting effective and user friendly systems in place. This will help the traders in paying their tax regularly and without any hassle and will also help the government in increasing its revenue without causing any inconvenience to traders.