Uday Shankar wins the IMPACT Person of the Decade-2014 award
Mumbai, Sun, 07 Dec 2014
NI Wire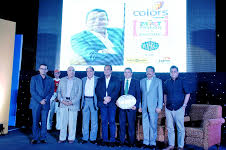 Mr Uday Shankar, CEO of Star India, received a significant industry award, The Impact Person of the Decade - 2014. Maharashtra Governor Chennamaneni Vidyasagar Rao gave the prestigious award to Mr Shankar, professionals of Indian Media.
The award recognizes the one individual who has made maximum and far-reaching impact on and influenced and helped shape the media, marketing and advertising industry tremendously over the last ten years.
Maharashtra Governor C Vidyasagar Rao, addressing an audience packed with leaders and professionals of Indian media, marketing and advertising, said, "Shri Uday Shankar's journey from being a journalist to head a large media organization has been spectacular. His agenda of driving a social change through programs like Satyamev Jayate has had a huge impact. In a country where cricket is a religion, he has brought to the fore games like Hockey and Kabaddi and demonstrated how these games could also be popularized in a changing world."
Accepting the award, Mr Shankar said,"This is overwhelming – there is nothing more special than peer recognition. I consider myself a creation of this industry, and for this industry to recognize that I might have made some impact on the last decade fills me with a sense of both -- pride and gratitude."
Introspecting on winning the Impact Person of the Decade, Mr Shankar said, "When I was informed by Impact that I am the person of the decade, I couldn't help but reflect on my journey and what led me here... I can say it in one word – collaboration. That seems to be the one thing that I have done better and better and better over the last 10 years."