3rd Delhi International Film Festival 2014 concluded
New Delhi, Sat, 27 Dec 2014
NI Wire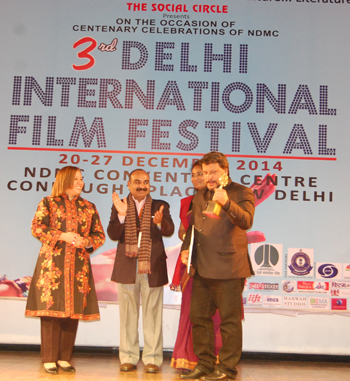 National Award Winning Filmmaker Tigmanshu Dhulia, Tasleema Nasreen from Bangladesh & Meera from Pakistan grace the grand finale of the 3rd Delhi International Film Festival 2014
3rd Delhi International Film Festival 2014 ended after giving some beautiful & interesting films to our audience. It was begin on 20th December 2014 & closed on 27th December (Saturday). A warm farewell to 3rd Delhi International Film Festival 2014 is given by many eminent personalities like Tigmanshu Dhulia, Meera, Taslima Nasreen, Khalid Mahmood Mithu, OP Mishra (director of NDMC), Vinod Goyal (Commissioner of Customs in Central Exercise), Sangeeta Gupta (Commissioner of Income Tax), Bouthaina Al (Deputy Chief of Mission Morocco Embassy, India), Rajeev Gupta (actor) & Bharati Taneja. A total of 28 awards in various categories that includes films, art, literature, photography & fashion were given at the grand finale that took place at NDMC Convention Centre in New Delhi.
The closing ceremony began with National Award Winner Filmmaker, Tigmanshu Dhulia receiving Special Honor award for his contribution to Indian Cinema. Tigmanshu who is the brand ambassador and founder member for DIFF, addressed the media and stressed upon the fact of creating a film city in Delhi and the support the kid on the block DIFF 2014.
On receiving the best actress Award Meera Ali, shared expressed herself "I am glad to receive Award at this Delhi International Film Festival, I am thankful to India for giving me this award, this is my first award actually that is given by India. I am honoured with many awards in my country Pakistan, but here I am really grateful to Ram Kishore Parcha ji for honouring me & all credit is goes to Khalid who made a fabulous film".