Superstar Amitabh Bachchan meets PM Modi in Delhi
New Delhi, Sat, 20 Dec 2014
NI Wire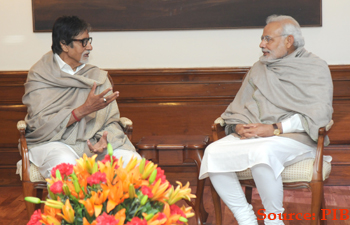 Indian Bollywood Superstar Amitabh Bachchan meets PM Modi in Delhi, today. However no details of the meeting is available. Big B is the brand ambassador of Gujarat. PM Modi was the Chief Minister of the Gurjat State earlier.
"Shri Amitabh Bachchan met the Prime Minister," read a post on the Twitter handle @PMOIndia, along with a photograph of the two of them.
For today's meeting (Saturday), both Modi and the Big B were in the the white kurta-pyjamas. They were using the shawls to protect them selves from the cold weather. In Delhi temperature is very low and people of the Delhi is fighting the chilling cold weather.
Later on Amitabh Bachchan tweeted: "Cold Delhi...warm Mumbai...happy home...soon happier -- grandchildren coming in from the cold to be with their cousin in the warm." from Mumbai.
Earlier on 29th October 2014, Mr Bachchan swept streets in Mumbai to support the Swachh Bharat cleanliness drive launched by Prime Minister.