'ALONE' Trailer crossed 2 millions views
Bollywood, Fri, 12 Dec 2014
NI Wire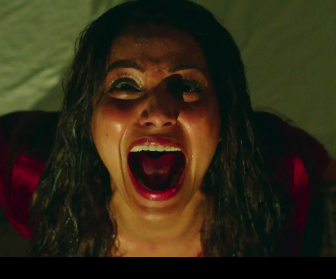 The trailer of the upcoming movie 'Alone' crossed 2 million views on the YouTube video sharing website. The trailer of the 'Alone' movie was released on Tuesday night on the YouTube website. This trailer has got huge response from the users.
The trailer of Bipasha Basu and Karan Singh Grover's much-awaited horror film, Alone, was unveiled late Tuesday night and it has got an overwhelming response from the audience. By crossing the two million mark on YouTube, it has become the fastest horror flick in Bollywood to garner these many views within two days.
The film has set a new benchmark by getting more than 20 lakh views on YouTube and becoming the No.1 Video in less than 48 hours due to its immense popularity among the viewers with an unprecedented Like ratio of over 95 percent. This is a feat in itself for the makers as only films which are made under big banners and featured on channels with huge subscriber bases manage this, while Panorama Studios, the film's presenter, is a new company making its debut production, with a completely new YouTube channel, on which it has featured the trailer. With a surge in number of likes of this kind, this is indeed a phenomenal landmark.
The film revolves around the novel concept of conjoined twins and the spine-chilling and intriguing trailer has managed to entice the viewers' curiosity. Audiences have given a double thumbs-up to the trailer and now, they are quite keen to watch the movie.
This is the first look of Bipasha Basu & Karan Singh Grover in Panorama Studios for the upcoming movie 'ALONE'.
The first look of Bipasha Basu & Karan Singh Grover in Panorama Studios upcoming Horror Love Story 'ALONE' is here!!
The film is Directed by Bhushan Patel who has earlier directed (1920-Evil Returns & Ragini MMS-2) and is on a hat-trick with his 3rd film also in the horror genre.
Slated to release on 16th Jan 2015, Alone is a horror love story film on conjoined twins played by Bipasha Basu.
The film is Produced by Kumar Mangat Pathak, Abhishek Pathak, Pradeep Agarwal, Prashant Sharma and Directed by Bhushan Patel.
This film is produced under the banner of Panorama Studios and produced by Kumar Mangat Pathak , Abhishek Pathak and Pradeep Aggarwal.
Upcoming movie 'Alone' is directed by Bhushan Patel (Of the hits Ragini MMS 2 and 1920 Evil Returns fame).