Jayapur village: Modi's choice for Saansad Adarsh Gram Yojana in Varanasi
Varanasi, Fri, 07 Nov 2014
NI Wire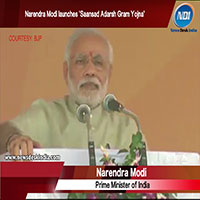 PM Narendra Modi selected Jayapur village in Varanasi for development of this village under the Saansad Adarsh Gram Yojana (SAGY). While speaking at Jayapur village PM Modi said "It is not that I have adopted Jayapur. I have come here with a request to you to adopt me and teach me a lot".
PM Modi is on two day visit to Varanasi.
PM Modi assured the development of region, he said "I am confident that our villagers have the ability to shape their own destiny through their own entrepreneurial skills and hard work".
The Sansad Adarsh Gram Yojana is for the MPs to develop the village focusing on the cleanliness, social & cultural development in the area. Though this Yojana the MPs will select the village in their area and develop it to become the Adarsh Gram.
This programme (Sansad Adarsh Gram Yojana) was launched on on the birth anniversary of Jayaprakash Narayan by the Prime Minister Narendra Modi on October 11, 2014.
Modi said he need the experience of the village to make the changes in the village.
PM Mod called for the afresh start and make the things work.