One World Trade Center Opens: Check construction video of One world trade center
US, Tue, 04 Nov 2014
NI Wire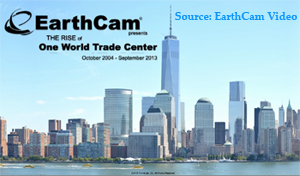 One World Trade Center Opens for business 13 years after the 9/11 devastation, 13 years back it was destroyed by the terrorists. The One World Trade Center was reconstructed and now opened after 13 years.
This One World Trade Center is the 94-story super-tall structure fourth-tallest skyscraper in the world and the alternate given is 1 WTC Freedom Tower (pre-2009).
On July 4, 2004, the symbolic cornerstone of the One World Trade Center was laid in a ceremony and further construction work was stalled until 2006 as the project financing and design was not cleared.
The One World Center will be used as business Office, observation and communication center.
The location of the One World Center is 285 Fulton Street, Manhattan New York, 10007, United States.
The architects of the build are David Childs (Skidmore, Owings & Merrill) Daniel Libeskind (2002). The developer company of this building is Port Authority of New York and New Jersey.
The Main contractor for this work was Tishman Construction. The height of the building is 541 m, 546 m to tip.
The video of the construction of the building was recorded and now released by EarthCam. This video shows how the building was constructed from the ground to top.
Here is the video of construction of One World trade Center:
In this you will clearly find the work done for the construction of this massive structure. Its shows all the work of the construction of One World Trade Center tower.