India's status in the Comity of Nations have been enhanced: Jaitley
New Delhi, Sun, 23 Nov 2014
NI Wire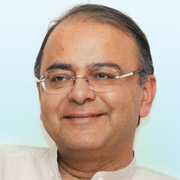 Finance Minister Arun Jaitley has said that after the Prime Minister's highly successful visit of three nations, India's status in the Comity of Nations appears to have been enhanced. Both India and our Prime Minister were at the centre stage in the G20- meet at Brisbane. What better recognition should there be of India's enhanced stature than President Obama agreeing to be the Chief Guest of India at our Republic Day Parade.
He further said that at home, our Ministers were working overtime to live up to the expectations of the Prime Minister and the people. The Raksha Mantri Shri Manohar Parikar took the NDA's agenda forward of expediting defence procurement.
]The Power Minister Shri Piyush Goel, through various Coal and Power sector reforms has given a new direction to the Ministry where coal allocation and power generation stagnated, as a result of the despotic coal allocation policy under the UPA.
The Commerce Minister Smt. Nirmala Sitharaman succeeded in persuading the Americans to correct the imperfection in the Bali Text on trade facilitations. India's Food Security Programme has been protected from the imperfection of the Bali Draft as a result of the Indo-US arrangement.