Tatkal Marriage Registration in Delhi
New Delhi, Fri, 21 Nov 2014
NI Wire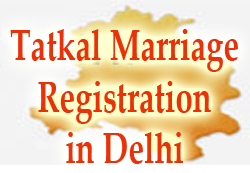 The tatkal Marriage Registration in Delhi is the process of single-day authorization of the marriages and through this process marriage registration certificate issued within 24 hours. The tatkal Marriage Registartion process cost Rs. 10,000 and the marriage certificate is issues on the urgent basis with the 24 hours of the marriage authorization. This tatkal Marriage Registration is good for the persons needing the marriage certificate on the urgent basis.
The normal process of Marriage Registration takes around 1-2 months, so if you are looking for the fast process then the Tatkal Marriage Registration is better option for you.
The revenue department of government of Delhi introduced the Tatkal Marriage Registration in this year (2014) under which the Marriage Registration process is considered on the priority basis.
The Delhi (Compulsory Registration of Marriage) Order, 2014 issued by lieutenant governor Najeeb Jung's, is applicable to all marriages solemnized in Delhi irrespective of caste, creed and religion of the brides and grooms.
Order said "Any marriage solemnized in Delhi between a man having completed 21 years and a woman of at least 18 years of age on the date of solemnization of the marriage, with at least one of them being an Indian citizen, will have to be compulsorily registered".
As per this order, the couples will have to apply for the Marriage Registration on the Tatkal basis jointly through the Form A. Following documents are required:
Documentary proof of age
citizenship
identification of the bride and groom
solemnization of marriage and place of their residence.
The Tatkal Marriage Registration process simplifies the Marriage registration process in Delhi but its costly and cost Rupees 10,000.