Jaitley warns Pakistan against 'unaffordable adventurism'
New Delhi, Thu, 09 Oct 2014
NI Wire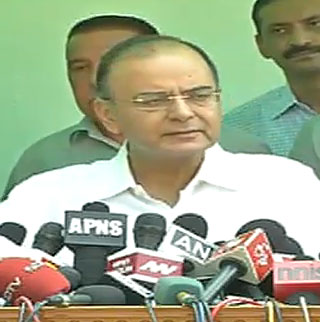 Today, Defence minister Arun Jaitley warned Pakistan against 'unaffordable adventurism'. This is the first interaction of Arun Jaitley with media after begin discharged from AIIMS.
Arun Jaitley said "Pakistan has to stop this un provoked firing and shelling ".
"Pakistan, with these attacks, has clearly been the aggressor", Jaitley said. He added "Our armed forces have only one option: to respond adequately and defend our territories".
Defence minister Arun Jaitley also ruled out talks with Pakistan until the un provoked is stopped. He added there is a connection between un provoked firing and infiltrations bids.
He said our PM is closely monitoring the situation. He said "He doesn't need to say anything on this as our jawans are giving a befitting reply to Pakistan. We are very satisfied with the response we have been getting".
These days Modi is busy in the election campaign in Maharashtra and Haryana. Earlier he only said "everything will be fine soon".
Earlier Rahul Gandhi criticized Modi and said "During his campaign he promised a tough stand against Pakistan", but what happened now.
Jaitey said "If Pak continues with this adventurism, our forces will make cost of this adventurism unaffordable ".