Dussehra: The victory of good over evil celebrated with fervor
New Delhi, Fri, 03 Oct 2014
NI Wire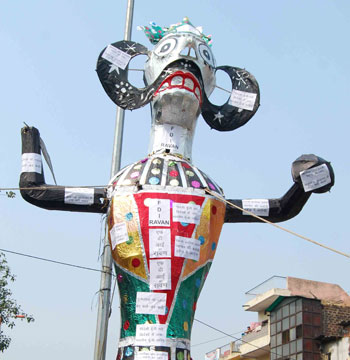 People are celebrating the Vijyadashmi today in India. This festival symbolizes the victory of good over evil. Prime Minister, Shri Narendra Modi has greeted the Nation on the occasion of Vijaya Dashmi.
"Greetings to everyone on Vijaya Dashmi. May good always prevail over evil," the Prime Minister said.
People from all walks of life celebrate the Vijyadashmi today with fervor. The terror of the cyclone failed to dampen the spirit of devotees who in large number thronged puja pandals, visited friends and relatives and gorged onto special menus offered by the restaurants across the country.
Many people indulged in light hearted chats, before partaking bhog (community feasts of food items offered to the Goddess first), which comprised a wide-range of varieties from luchis (poori bread) to khichuri, vegetable items etc.
As per Hindu mythology, Goddess Durga killed Chando and Mundo, two asuras (demons) at the confluence (Sandhi) of Maha Ashtami and Mahanavami and then it turns Vijayadashmi.
The mythology says that the Puja celebrates the annual descent of the Goddess - accompanied by her four children Ganesh, Kartik, Lakshmi and Saraswati - on the Earth to visit her parents. She stays for four days to eradicate all evil from the Earth before returning to her husband Lord Shiva at Kailash on Dashami.