Google Doodle celebrates Jonas Edward Salk Birthday
New Delhi, Tue, 28 Oct 2014
NI Wire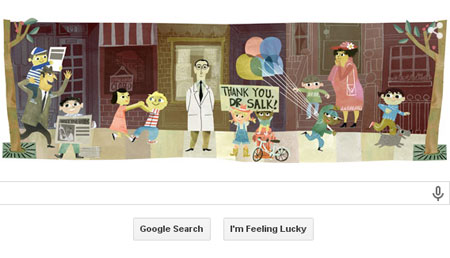 Google Doodle is displaying the thank you message on the 100th Birthday of the Jonas Edward Salk. In the Google Doodle childrens are displaying the thanks message to Jonas Salk. Jonas was the first virologist who discovered the first inactivated polio vaccine.
In the Google Doodle children's are playing and one boy is playing with the balloons.
This Google Doodle is a nice work of the artist.
Jonas Edward Salk was an American medical researcher and virologist. Jonas Salk was the first scientist who successfully discovered and developed the polio vaccine. He was born on October 28, 1914, in the New York City of United States. He died one June 23, 1995 at La Jolla, San Diego, California, United States.
Jonas Edward Salk had little formal education but his parents wanted to see him on the height of success. Instead of choosing the formal practicing physician profession, he selected the medical research work.
In the year 1957, Salk polio vaccine was introduced and at that time the polio was considered to be most frightening public health problem.
In the year 1952 there was worst outbreak of polio in the history of United states. At total of around 58,000 cases were reported and 3,145 people died. Nearly 21,269 victims were left paralyzed. And among the victims most were the children.
The research and development work of Jonas Edward Salk is very helpful for the mankind.