PM hosts Diwali Milan for NDA MPs
New Delhi, Sun, 26 Oct 2014
NI Wire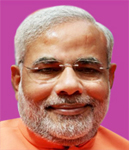 The Prime Minister, Shri Narendra Modi, today said that 400 odd MPs of the National Democratic Alliance (NDA) together represented a force with tremendous positive energy, which could help chart a new course for the country. "Let us think big. Let us think far. Let us think above politics," Shri Narendra Modi said. He was speaking at a Diwali Milan hosted by him at 7 Race Course Road, for MPs of the National Democratic Alliance.
Talking about the recently launched Swachhta Abhiyaan, the Prime Minister said the initiative has received tremendous response from all sections of society. He called upon all NDA MPs to connect with people as they undertook efforts for Swachh Bharat in their areas. He urged them to visit schools in their areas over a five-day period beginning November 14th – the 125th birth anniversary of India's first Prime Minister Shri Jawaharlal Nehru, and explain to children the importance of hygiene. This would send a positive message, he said.
The Prime Minister said that achieving Swachh Bharat is tough, but just as people of this country got together to eradicate polio, in the same spirit, Swachh Bharat can also be achieved.
The Prime Minister urged the MPs to take to the people, the work done by the NDA Government for the welfare of the poor.
The Prime Minister felicitated BJP President Shri Amitbhai Shah. Shri Amit Shah, in his remarks on the occasion, also called upon the MPs to go and explain to the people, the work being done by the NDA Government.
Greeting the assembled MPs on the occasion of Deepavali, senior leader Shri L.K. Advani said that this Diwali was the best he had ever witnessed, as the party had risen to unprecedented heights.
Finance Minister Shri Arun Jaitley briefed the MPs on the Pradhan Mantri Jan Dhan Yojana, coal, gas pricing and diesel deregulation. Rural Development Minister Shri Nitin Gadkari spoke about the Saansad Adarsh Gram Yojana and Labour Minister Shri Narendra Singh Tomar briefed the MPs on the various initiatives taken under the Shramev Jayate Karyakram. Parliamentary Affairs Minister Shri Venkaiah Naidu gave some tips to the MPs for the upcoming winter session of Parliament.
Source: BJP