Disaster management squads at Railway Stations and Chath Puja Ghats
New Delhi, Sun, 26 Oct 2014
NI Wire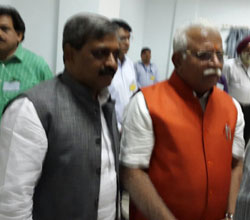 Delhi BJP President Sh. Satish Upadhyay has thanked the railway minister Sh. Sadanand Gowda for accepting Delhi BJP Demand for Special Trains on 26, 27 & 28 October for people willing to travel back from Delhi to their home towns in Eastern U.P. & Bihar and sanctioning 160 Special Trains.
With this new sanction Railways would be running record highest number of special trains ever for Chath Yatris.
Delhi BJP President Sh. Upadhyay shall be meeting Delhi Chief Secretary Sh. D.M. Sapolia in his office on Monday noon to ensure that Delhi Govt. Departments & all 3 Municipal Corporations of Delhi come together to provide best facilities to Chath Vratis in Delhi at around 200 identified Chath Puja Ghats.
Sh. Upadhyay who had before Diwali written to the Chief Secretary of Delhi for deployment of Disaster Management Squads with Ambulances at Railway Stations & Chath Ghats shall again raise the demand to ensure immediate deployment of Disaster Managent Squads and extra police force & marshalls at railway stations for ensuring safety.
Source: Delhi BJP