Bridal Asia to celebrate its15the anniversary in Delhi
New Delhi, Fri, 27 Sep 2013
Amit Kumar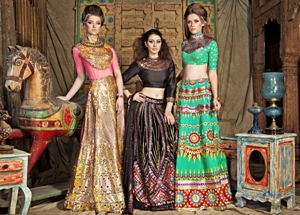 One of India's most awaited annual bridal extravaganza, Bridal Asia is all set to mark its makes its 15 years of undisputed leadership with its celebration from October 5 next month in the capital.
Bridal Asia 2013 - Asia's biggest exposition will showcase the best of bridal finery, apparel and products in the three days bringing the finest names from the subcontinent under one roof. From introducing premium and celebrated designers from across the borders to the Indian audience, to bringing various facets of trousseau shopping under one roof, Bridal Asia has become quite popular globally in last 15 years in the area of wedding exhibitions.
Catering to a broad range of consumers the collections at Bridal Asia, 2013 will reflect the genius of master craftsmen's and designers through blends of modern and traditional, classical and contemporary, all these with an aim to display traditional and contemporary yet appealing and affordable wedding attires. Leading and renowned fashion designers from India and the subcontinent will be sharing the space with a bunch of talented home grown designers, poised for an entry to the big league, soon.
In addition to that, leading and unique jewellery from across the country will be featured in Bridal Asia. Handpicked by the leading jewelers of the country throughout the event.