Amazon.in launches brand new Home and Kitchen store
New Delhi, Thu, 26 Sep 2013
Amit Kumar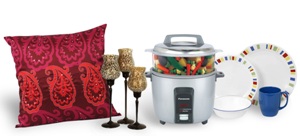 Amazon.in, one of the leading e-commerce portals on Thursday announced the launch of its brand new Home and Kitchen store on its marketplace, www.amazon.in keeping in view to reduce the rush of Indian customers for shopping with the upcoming festive season.
Moreover, customers can also enjoy significant savings while shopping from one of the largest collections of home and kitchen products that includes everything from small appliances to kitchenware; dining to home furnishings; home décor, home organization and more.
"We are very excited to offer a vast selection of home and kitchen products at significant savings in time for the festive shopping season," said Amit Agarwal, Vice President and Country Manager, Amazon India. "The launch is a continuing part of our mission to build a place where customers can come to find and discover anything they might want to buy online."
Customers will find the small appliances and kitchen products section on the store an ideal shopping destination for Dhanteras this year with over 6000 products for every taste ranging from pots and pans sets, kitchen tools, dinnerware, juicer mixers, kettles, air fryers, irons and vacuum cleaners. Additionally, shoppers can enjoy a 20% saving on select small appliances.
Sanjeev Kapoor, renowned Chef and Director of Wonderchef, one of the brands available on Amazon.in said, "Wonderchef brings to you products that help you to cook healthy, tasty food more conveniently. All Wonderchef products stand for superb quality backed by reliable Wonderchef Guarantee. I have personally handpicked every product to give you years of cooking pleasure. And now with these available on Amazon.in, I am assured we will be serving you, our customers, better and faster to bring health and happiness to your family".
The 21,000 plus products in the home décor and home furnishing sections on Amazon.in makes for a convenient family shopping experience to pick and choose the new look for your home. The selection ranges from bed sheets, duvets and comforters, curtains, towels and bath accessories to art print and posters, wall clocks and home décor accents. Shoppers will find a whole host of interesting and unique products from a beautiful hand painted Warli terracotta pot to an ornate marble elephant from The Bombay Store, a Hanging Diya set from Borosil to a colorful Hookah from Basement Bazaar, a Bonsai Frangipani plant from Four Walls to a four piece bath set from Umbra. The selection is wide and varied.
To help customers choose from this large selection and find products as per their needs, Amazon.in provides detailed product descriptions, options to shortlist products by features, customer reviews from Amazon.com as well as personalized recommendations.
Customers can now shop from several retailers and more than 150 brands including Phillips, Bajaj, Morphy Richards, Panasonic, Black and Decker, Bombay Dyeing, Swayam, Tescoma, Wonderchef, Oxo, Lock n Lock and Rubbermaid, in one convenient place.
As with all purchases on Amazon.in, customers can benefit from a safe and secure ordering experience, convenient electronic payments, no-risk hassle-free returns policy, Amazon's 24x7 customer service support, and a globally recognized and comprehensive purchase protection provided by Amazon's A-Z Guarantee.
With several retailers including Croma, Tradebazaar, Premium Homeware, BedBathMore, Wonderchef, Maspar and Borosil using Fulfillment by Amazon, customers can enjoy the additional benefits of Cash on Delivery, delivery tracking to the doorstep, free returns pickup, and free delivery with no minimum value on all orders Fulfilled by Amazon.
With the launch of this store, customers can shop with ease and confidence on Amazon.in from over nine million books, over 130,000 products from hundreds of brands, and more than 1.9 million eBooks from a continually growing pool of retailers. Products on Amazon.in range from; Books, Movies and TV shows; the Kindle family of E-Readers, Tablets and eBooks; Computers and Accessories; Mobiles and Accessories; Cameras and Photography; Portable Media Players; Toys and Games; Baby Products; Personal Care Appliances; Health Care Devices; Watches; Fashion Jewellery; and now Home and Kitchen.
ment, lifestyle, arts and culture events.