North East Design Fest ended with a grand success in Delhi
New Delhi, Mon, 23 Sep 2013
Amit Kumar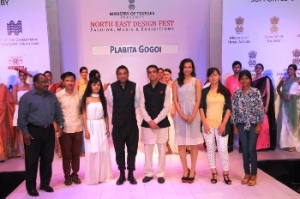 The North East Design Fest, a mega festival to showcase the talents of North East region of India concluded on Sunday with a high note.
The four day mega event entertained the spectators with hosts of Fashion shows, Cultural program and Exhibitions of Handloom, Handicrafts, Jute, MSME sector of the North East Region and attracted a huge number of footfalls making it huge success.
The cultural extravaganza witnessed twelve fashion shows, which included showcase of collections by eminent designers Meghna Rai Medhi, Aji Semy Rengma, Mona Pali, Boney Darang, Wede Khape, Agnimitra Paul, Vianney Basiedor Nongrum, Rinzing Choden Bhutia, Gaurang Shah, Melody Runremsangi, Charlee Lalthlenmawia and Plabita Gogoi.
Moreover, ramp walk by Bollywood stars Minisha Lamba, Sonal Chauhan with others for supporting and expressing their solidarity to the talents of North East added more glamour to the show
The concept behind the North East Design Fest was to create an interaction of ideas, provide an international standard marketing forum and a unique platform to showcase NE India's textiles and artisans who have come not only with their handlooms, but also- Jute, Khadi, Coirboard, Assam Silk and handicrafts as well.
Famous rock band groups Featherhead, (MOD) Minute of Decay, Towering Faith performed folk & rock fusion in the four day festival provided absolute delight to the spectators.
North East Region of the country with the eight beautiful, exotic and to an extent unexplored states of Assam, Arunachal Pradesh, Tripura, Meghalaya, Nagaland, Manipur, Mizoram and Sikkim have a strong history of its traditional textiles and handicrafts which forms an integral element of its socio- economic structure of the societies.
The festival acts as a curtain raiser to showcase the talents of Designers, Performing artists, Artisans, Craftsmen, Weavers coming from different parts of the versatile North East region. People of the capital got an opportunity to interact with this wonderful talented young visionaries and this would create a bridge of understanding and mutual growth of thought process between NER and mainstream. North East Design Fest was inaugurated by Srimati Pranatee Phukan, Minister of Handloom and Textiles Government of Assam.
Mr Vikram Rai Medhi, Event Director said, "Eighty number of stalls had been erected at Select CITYWALK which showcased and created a mini North East for cross section of the society of Delhi and this created an element of positive awareness and curiosity of our region which will thereby also play a role in the development in the Tourism sector. We thank all culture loving people of Delhi and the media to wholeheartedly supported this humble and sincere effort closer to the mainstream."
The festival was presented by Ministry of Textiles with the support of Ministry of MSME, Ministry of Home Affairs - departments of Handloom and Textiles of govt. of Assam and govt. of Arunachal Pradesh in association with Select CITYWALK.