Ghaziabad based Therapeutic Education Centre brings new hopes for disables
New Delhi, Fri, 20 Sep 2013
Amit Kumar
null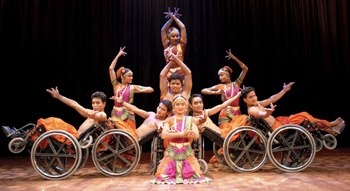 Our Country is full of opportunities in Metros for persons with disabilities whereas 70% of them lives in rural areas where facilities and awareness is very less but the praiseworthy efforts of Ghaziabad based Ability Unlimited Foundation (AUF)'s Therapeutic Education Centre must be applauded for helping those persons with disabilities to create a distinct identity for them instead of living an anonymous life.
After spending almost 3 decades in providing therapeutic education in various parts of the world and analysing the job opportunities for trained differently abled professionals in the field of Art and culture, Ability Unlimited Foundation is all set to launch first of its kind in the world "Therapeutic Education Centre". It is located at Village Muhiddinpur Dabarsi Ghaziabad District, Uttar Pradesh -201205, and going straight 26 kms on NH-24 from Delhi. The centre is spread over in an area of 60,000 sq.feet. with the capacity to cater arts education and residential facility to 150 differently abled students in the lap of nature. This will help them to achieve highest standards in the field of dance, drama and music, and also give them capacity to lead an independent life with dignity and equality.
Ability Unlimited Foundation is a brain child of legendary Guru Syed Sallauddin Pasha, recipient of National Award, for outstanding performance in the field of empowerment of persons with disabilities, ministry of social justice and empowerment ministry, from government of India. He has conceptualized this self sustainable Therapeutic Centre with hostel facilities where electricity is generated by Solar energy with organic farming and 24 hours gadaganga water supply.
First of its kind in the world, the therapeutic education system will be taught in holistic centre and will give professional vocational training in dance, music, theatre and painting as per the ability of child along with the formal education (which also provides job opportunities in the areas of Art and Culture.) To make Formal education a fun learning experience chapters of English, Hindi and social science will be taught through dance, music, and drama, whereas Maths will be taught through dance and sign language.
Guruji Syed Sallauddin Pasha says, this kind of education system does not exist anywhere, which is designed and developed to bring out indomitable spirit of each PWD who wants to pursue performing and visual art as a career which also gives every day a new rejuvenating experience.
With three decades of experience across the world and qualifications of working with PWD's from various parts of the world such as Somalia, Russia, Finland, Astonia, Britain, America and Asian, Guruji Syed Sallauddin Pasha believes that people with disabilities are also people with extraordinary talents. Given an opportunity they are second to none. It is a unique culmination of dance and music therapy, yoga and rhythm therapy, storytelling and choreography therapy imbibed into various education systems. This therapeutic education is first of its kind anywhere in the world. AUF with experience believes that nurturing and showcasing the talents of persons with disabilities need environment, right training and professional presentation which surpasses human imagination and strength in each act they perform in their life.
null