"Harvest 2013" to feature 95 works on display by 65 renowned artists
New Delhi, Thu, 19 Sep 2013
Amit Kumar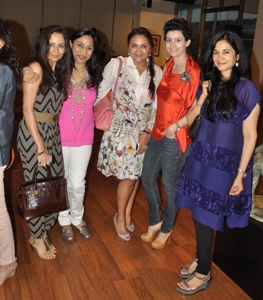 "Harvest 2013" an art exhibition displaying the talents of various artists across the country kick started on 14th September 2013 at Stainless Art Gallery and will run till 30th October 2013.
Some of the esteemed guests at the event were Shalini Passi,Paresh Maity, Jayasri Burman, Deepika Jindal, Abhilasha Agarwal, Shefali Jain, Shalu Jindal, Vikram Baidyanath, Priya Jain, Kavita Bhartia, Shamshad Husain, Suneet Chopra to name a few.
There would be 95 works on display by 65-70 renowned artists.
A group art show showing the best of Indian art. The show is titled art in testing times and goes to show art is very stable even in the upheavals and uncertainty that the Indian and world economy is going through and is a very good long term investment provided you to buy the right artwork in the budget which a potential buyer may have. There are more than 60 well known and young contemporary artists participating in the show. This is the largest group show in running in Delhi.
This year there is a special focus would be on the tribal art also.This year's Harvest shows like its predecessors, trends in Indian contemporary art. This is the 13th year of this annual show. There are about 65-70 participating Indian artists. It shows the steady growth of Indian Art through the ages and its focus is good quality Indian art. The show is curated by Payal Kapoor director of Arushi Arts.
The roots of our contemporary artistic expression are deep. That is why Jamini Roy can draw inspiration both from our tribal scroll art of Bengal and French cylindrical drawing and create his own world of a global humanist vision. This one finds reverberating in the works of M F Hussian, S H Raza and F N Souza, but each with his different original expression based on each artist's unique experience set in the framework of India's own take on universality.
Another important element that gives our contemporary art its place in the world is the high level of excellence in execution. Whether it is the flow of the line, the variety of colour and the use of texture to give a work its tactile reality, there are a large number of artists from different parts of the country and of different generations, ranging from G R Santosh from Kashmir , Krishen Khanna from Delhi, Ram Kumar from Himachal, Akbar Padamsee and Atul Dodiya from Mumbai, Sanjay Bhattacharya and Paresh Maity from Bengal, Arpana Caur from Punjab, who reflect a reflect a remarkable capacity to express themselves with originality.