Second Inner Path festival to celebrate Buddhism concluded
New Delhi, Fri, 13 Sep 2013
NI Wire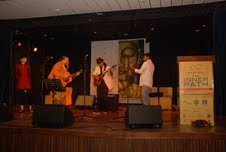 The second Inner Path festival to celebrate Buddhism by NETPAC was concluded last night. The festival was promoted by renowned film critic Aruna Vasudev (Founder & Director The Inner Path), the pioneering president of the Network for Promotion of Asian Cinema and was a huge success.
The festival was held from 6 to 10 September in the capital's Azad Bhavan (Indian Council of Cultural Relations). The inauguration was done by External affairs Minister, Mr. Salman Kurshid; who commended the efforts of Aruna Vasudev and NETPAC for their initiative in spreading awareness about Buddhism. He said, "Buddhism has given spirituality to this world and we are the birth place of this remarkable way of life, we should consider ourselves blessed for giving this world this wonderful way of life." The opening also saw a performance by The American Band, 'Dharma Bums' who enthralled the audience with their spiritual performance with Buddhism themed songs.
The festival was beyond exhibitions, concerts and film shows. There were daily Discourses by eminent Buddhist teachers and scholars followed by discussions. The speakers were his Eminence the 12th Kenting Tai Situpa, Prof. Askar Chingizovich Akmatov from Kyrgyzstan; Dhammananda Bhikkhuni from Thailand; and Dr. Rabindra Panth, the Director of the Nav Nalanda University, Bihar.
The four days event included film screenings by eminent and new directors on the theme of Buddhism, also on display were art works and photographs by renowned photographers like Jaime Leon Ros, Nicholas Vreeland, Shefali Munjal & Sculptures by Shakti Maira.
During the course of the day panel discussions were held after the movie screening which proved to be very insightful for the audience present there. Some of the movies which were really appreciated by the audience were : 'An essence of Wind' by Winaldo Artaraya Swastia of Indonesia, 'Samsara' by Pan Nalin, 'Karma' by Tsering Rhitar Sherpa , 'Spring , Summer Fall, Winter…and Spring' by Kim Ki-Duk of South Korea.
The highlight of the screenings was the last film 'Impermanence' by National Award winning Director Goutam Ghose, who was also present at the festival and attended the discourses and screenings. The film was about the journey of Tenzin Gyatso, the 14thDalai Lama of Tibet. He said, "I enjoy making all kinds of films and with real people it's much more challenging."