A joyful start to the Buddhist Exhibition of Caligraphy and Photography
New Delhi, Tue, 10 Sep 2013
Amit Kumar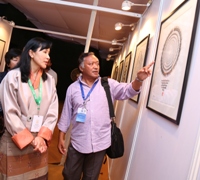 A four day exhibition of Buddhist Calligraphy & Photography was inaugurated at Hotel Hyatt Regency, Bhikaji Cama Place, New Delhi by the Princess of Bhutan, HRH Ashi Kesang Wangmo Wangchuk.
The exhibition is being organised by Asoka Mission and is part of the First Founding Members Conclave of International Buddhist Confederation being held in the capital from Sep 9th till the 12th.
Guests were seen mesmerized by the beautiful calligraphy art by famous Artists Jamyang Dorjee & Bryan Mulvihill as well as the amazing photography of Benoy K Behl & Kshipra Simon.
Among the Guests who attended were Actor Nasir Abdullah, Producer Suresh Jindal, Entrepreneurs Sanjay Sharma, Harjinder Kaur, Artists Bipasha Sengupta, Leena Bidani, Designers Pawan Sachdeva, Shivani Singh, Jewellery Designer Shalini Kochhar, Socialites Vandana Vadhera, Monica Barara, etc.