Jewels by Annu Chadha celebrated their 1st Anniversary in Delhi
New Delhi, Tue, 10 Sep 2013
Amit Kumar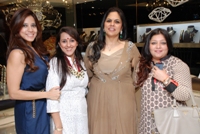 Jewels by Annu Chadha celebrated their 1st Anniversary with the unveiling of Diamond and Polki 'Festive Season Collection' for their high powered clientele. The collection introduces the new concept in uncut diamonds without the use of laakh which is traditionally done otherwise. The 'casting' technique is not used in this line as is done in jadau pieces and each piece is individually crafted in 18k hallmark gold. The gold used is of higher purity. It is said, 'God is in the details' and it is those details that have always been taken exceptional care of at Jewels by Annu Chadha.
Some of the guests spotted at the soiree were Neelam Pratap Rudy, Preeti Ghai, Rimple Narula, Ramola Bachchan, Malika Jain, Sonia Bajaj, Anukant Dubey, Dimple Fouzdar, Sunaina Chhiba among others.
What differentiates this line is the use of gold instead of laakh and the quality of the uncut diamonds. It is far superior as compared to that of the jadau collection. These two attributes put together enhance the beauty of each piece. The uncut diamonds are interspersed with precious gemstones to give each piece an exquisite look. Generous use of rubies, emeralds, sapphires and south sea pearls add to the charm of the collection. Full cut and uncut diamonds are used together in some of the designs adding life to the pieces.