Nation celebrates Krishna Janmashtami fest
New Delhi/Mathura, Wed, 28 Aug 2013
NI Wire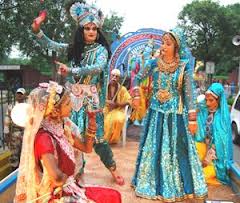 India, Nepal and many other countries where Hindus are in large numbers are celebrating today the grand festival of Krishna Janmashtami. On this day, it is assumed that Lord Sri Krishna had taken birth in Mathura.
The Hindus devotees swarmed temples today to celebrate the festival.
In New Delhi, hundreds of devotees flocked inside temples, participated in temple dances, cheered and sang hymns to celebrate the birth of their god.
All over India this day is celebrated with devotional songs and dances, rituals, blowing of the conch and rocking the cradle of the 'infant' Krishna.
In Mathura, which is considered to be the birthplace of Lord Krishna, devotees were seen praying at the temple even before dawn.
Earlier, President Pranab Mukherjee, Vice President Hamid Ansari and Prime Minister Dr. Manmohan Singh greeted the nation on the occasion of Janmashtami.
President Pranab Mukherjee has extended his heartiest greetings and best wishes to all citizens on the auspicious occasion of Janmashtami.
"Let us, on this sacred day, recall the teachings of Lord Krishna which have for centuries, been an inspiration to us to follow the path of virtue and righteousness in thought, word and deed," said President Mukherjee in his message.
"May Lord Krishna 's noble message of ' Nishkama Karma' or duty without thought of reward, motivate all of us to work in unity and with selfless dedication for peace, prosperity and progress in our country," he added.
"I extend my greetings and best wishes to all our citizens on the occasion of Janmashtami, which marks the birth of Lord Krishna," he said in his message.
Vice President Ansari said that this festival, celebrated with gaiety and piety throughout the country, is an appropriate occasion to recall the important message of Lord Krishna that attainment of happiness in life and freedom from bondage is by doing one's duty efficiently, without being attached to or affected by the eventual result.
"May this auspicious day bring us peace, joy and harmony," he added.
Janmashtami, the birthday of Lord Krishna is celebrated with great devotion and enthusiasm in India in the month of July or August. According to the Hindu calendar, this religious festival is celebrated on the Ashtami of Krishna Paksh or the eighth day of the dark fortnight in the month of Bhadon.
The actual celebration of Janmashtami takes place during the midnight as Sri Krishna is believed to be born on a dark, stormy and windy night to end the rule and violence of his uncle, Kansa. All over India this day is celebrated with devotional songs and dances, pujas, arti, blowing of the Conch and rocking the cradle of baby Sri Krishna.
The Janmashtami celebration of Mathura and Vrindavan, the places where Sri Krishna had spent his life, are very special. On this day, temples and homes are wonderfully decorated and illuminated. Night long prayers are offered and religious mantras are sung in the temples.
--With Agencies Inputs--