Swapnil Shinde's stunning debut Bridal Preview dazzled the audience at LWF 2013
New Delhi, Mon, 26 Aug 2013
NI Wire
null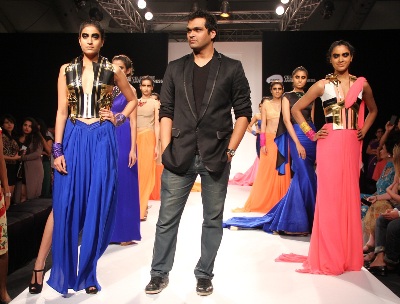 Creative designer Swapnil Shinde, showcased his first ever, couture bridal collection appropriately named 'Bride of Terminator' at The Source, during Lakmé Fashion Week Winter/Festive 2013.
The collection was a stark presentation between modernity and futurism, but at the same time keeping the Indian market in mind.
The range of carefully constructed garments was part of a bridal collection, which only the modern bride could pull-off effortlessly. The line had less emphasis on embroidery and more concentration on bright colours, structure and detailing, which are the key elements around which Swapnil enjoys working.
For those who are unaware of Swapnil's creative methodology, the designer is known for his deep thought processes in visualising mind-blowing fabric detailing, which makes his work stand out amongst the fashion offerings of the country.
Swapnil has always struck a balance between two extreme terms, 'sexy' without being cheap or crude and 'elegant' without being too boring or matronly. With his soaring popularity, Swapnil's sophisticated garments are also available online. One of the popular stylists among Bollywood celebs, Swapnil has combined this effortlessly by managing retail from the top leading fashion stores in the country. The talented designer recently finished designing amazing costumes for idream production 'Fired'.
He had also designed costumes for Madhur Bhandarkar's hit movie 'Fashion' and also looks for Vidya Balan in 'The Dirty Picture', People Picture's '99' and various advertising campaigns such as Sunsilk with Priyanka Chopra, Vivel with Amrita Rao and music videos.
Swapnil managed to make jaws drop last season at Lakmé Fashion Week Summer/Resort 2013 with his "neon catastrophe" in his figure hugging garments and unkempt look making the models sizzle as they walked down the ramp.
For his "Bride of Terminator" collection, Swapnil concentrated on silhouettes that had fit, flare and a curtain of drapes. The colour palette ranged from stark black to neon shades of orange, pink and midnight blue, a rare combination, which Swapnil managed to tackle skilfully.
The show started with a deeply constructed black and silver metallic glazed top paired with flared midnight blue trousers. The second entry was a neon pink maxi dress lavishly embellished with silver and black fabric detailing. An orange lehenga choli combination was an eye-catching addition while a blue and black sequinned maxi gown with a luxurious trail was designed cleverly to resemble a hidden sari amongst the creative drapes. Neon pink and orange were then brought together in a gown having a sensuous trail splashed with gold embellishments. The fishtail silhouette revealed Swapnil's dynamic sense of distinctive style. The final garment was a stunning concoction of neon colours, fine embellishments, fit and drapes.
Curtain like drapes adorned the backs of maxi dresses and fitted tops but the fabrics were kept simple in georgette, raw silk, silk crepe and satin Lycra. Metallic additions gave a futuristic lood in gold but teamed with Swapnil's favourite metallic rexin detailing.
Glittering bangles and braided buns completed the look. The makeup was fierce in its smoky black and orange eye shadow palette with nude lips.
Swapnil Shinde as always, has accomplished and managed to convince and prove that he is adventurous in his own creative way, designing collections for women who like to boldly reveal their sartorial preferences.
TV actors from the popular show 'Jassi Jassi Koi Nahin' Apoorva Agnihotri with his wife Shilpa Sakhlani and Mona Singh were spotted amongst the audience.
For the audience gathered it was a great opportunity to preview Swapnil Shinde's debut collection "Bride of Terminator"
null