LFW 2013: Nupur Kanoi takes Audience On An Eccentricity Tour
New Delhi, Sun, 25 Aug 2013
NI Wire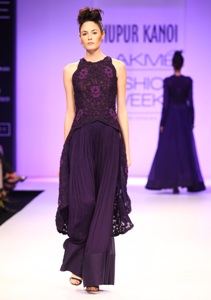 Adding controlled Boho chic to her collection called "Eccentricity Tour", Nupur Kanoi was inspired at the Lakme Fashion Week Winter/Festive 2013 show by the decadent 70's era when music and flower-power madness was the rage. The line was a mix of many aspirations that ranged from crafty, to nomadic and even a little quirky.
The product range, offered to the modern trendy women, comprised gilets, maxis, skirts, turtle neck tunics, biker kurta jackets and wraps. Ideal for a cross section of women, the overall appeal of the line was aimed at a global buyer.
Highlighting the beautiful craft of India, Nupur divided the show into the embroidery segments, as well as colour, to present control collections with western silhouettes and minute detailing. Fabrics were kept at the very feminine level with chiffon and silk being the designer's favourties.
Opening the show with Kutch embroidery in deep red, the biker jacket as an inspiration, was used liberally for the long jacket, gilet kurta dress and a wrap dress. Zippers made an appearance in the garments but more as embellishments, or detailing rather than for practical use.
The ribbon applique group, began partly in deep red, then moved to brown for the egg-shaped dress, the chiffon gathered crinkled maxi skirt, fluid palazzo and the very feminine halter jumpsuit. A zippered poncho with a halter top added a jaunty touch to the collection.
The third section featured pinstripe embroidery, which was so fine it almost could be mistaken for prints or weaves that gave the waistcoats, elegant suits and chiffon gathered maxi a more sophisticated appearance.
The final crewel embroidery group in regal sapphire was fabulously crafted in pencil skirt, maxi godet shirt, gathered Sharara and skivvy kurta.
For glamorous clothes that speak a language all their own, Nupur Kanoi's collection was a pleasant fashionable "Eccentricity Tour" for the audience.