LFW 2013: Huemn by Pranav Mishra And Shyma Shetty redefines Inovation
New Delhi, Sun, 25 Aug 2013
NI Wire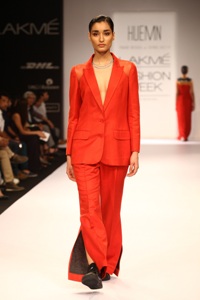 Aimed at the sophisticated New Age woman the Huemn label by Pranav Mishra and Shyma Shetty presented an androgynous line that morphed into contrasting textures and colours at Lakmé Fashion Week Winter/Festive 2013. The classic masculine look was redefined for feminine separates, which were the mainstay of the range.
Oversized coats, parallel trousers and leather separates gave an interesting dimension to women's wear. Sleek skirts and gowns had striking embroidery, while rounded shoulders were an eye-catching detail. Shades of grey, navy, moss highlighted the leather, along with cotton, silk and classic suiting fabrics. The richness of the silk and cotton also revealed subtle finishes, which gave the garments a timeless appeal to most women.
Opening the show with a jacket in grey with mini cape, skirt and silk pants; the collection moved on to reveal vertical stripes for tunics worn with slit pants. The vertical striped blazer with floral appliqué, grey dolman sleeves dress and the other version with a centre leather patch were stark fashion offerings. The bias skirt with boxy blouse, maroon silk creation with 3D rosettes in black leather, red skirt with black patch, long sleeve blouson marked with petal appliqué and the red gown with black and dull yellow yoke were well finished with discreet detailing and an emphasis on "less is more" as the base of the designs.
For classic styling with an androgynous yet feminine appeal, the collection by Pranav Mishra and Shyma Shetty for their Huemn brand will create an arresting impression.