LFW WF 2013: Little Shilpa wowed the audience with her Extreme Creativity
New Delhi, Sun, 25 Aug 2013
NI Wire
null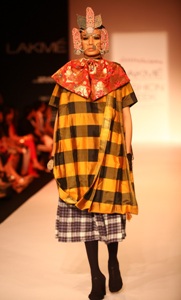 Known for creating the most extreme accessories, Little Shilpa once again wowed the audience with her "out of the box" creativity at Lakme Fashion Week Winter/Festive 2013. Using amazing unconventional materials, the accessories for the head and neck had that futuristic space age feel that was mind-boggling in thought and design.
This time Little Shilpa turned her attention to the sari and the katori choli and gave the duo, her eccentric creative touches. The collection called "Grey Matter" had silk saris draped in styles that were totally quirky and worn with men's shirts, T shirts or a katori choli-cum-shirt. To balance the unconventional treatment of the saris and cholis the head and face ornaments turned the models into deities and divas as paisleys, florals and ornate shapes covered the head in Perspex and Plexiglas neo graphic styles.
For those who dare, Little Shilpa added large shoulder pads for checked shirts while saris were teamed with manila shirt and a giant brocade bow on a looped hem top completed the wildly different look. It was extreme styling and silhouettes that kept the audience guessing on the creative formations, as the models gradually walked down the ramp.
The "Grey Matter" by Little Shilpa was undoubtedly a jaw dropping collection which will require intelligence of a very high level to fathom its unbelievable creation.
null