When Tabu turned Draupadi for Anju Modi at Delhi Couture Week 2013
New Delhi, Thu, 01 Aug 2013
Amit Kumar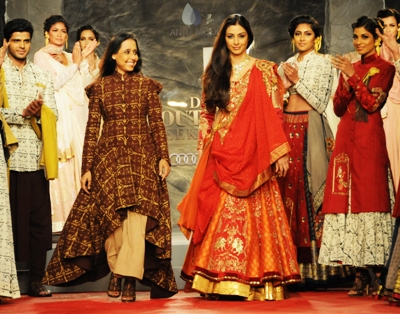 It was the opening day of the fourth edition of Delhi Couture Week in the capital, which left everyone surprised to see the new avatar of versatile Bollywood actress Tabu as modern day Draupadi.
Tabu looked stunning in red and gold lehenga blended with a full-sleeved velvet blouse, which justified the real elegance of Draupadi.
Tabu was the showstopper for noted designer Anju Modi, who opened the five-day extravaganza with her magnificent collection labeled as 'Draupadi', where models sizzled on ramp wearing anrakalis, lehengas, jackets, skirts, achkans, jodpuri breeches, churidaars teamed with beautiful jewellery, displaying the true essence of Mahabharata on the ramp.
The show brought the memories of one of the oldest epic of India 'Mahabharata' live on stage by displaying every part of Mahabharata beginning from "Marriage to Pandavas" followed by "Dice Game between Pandavas and Kauravas" and lastly Draupadi's "Devotion" towards her brother Lord Krishna.
Modi took the spectators to the age of Mahabharata with her marvelous presentation that was followed by musical drama in between the show, which further added to the authenticity of the show.
On being asked why she chose Tabu as Draupadi, Modi said: "I chose Tabu as a showstopper because I feel Tabu expresses herself really well. She is strong and looks elegant. When I thought of Draupadi, I wanted a woman with strength and the first name that came in my mind was of Tabu. I was sure that she will portray the character as beautifully on the stage as she portrays it in the films".
Tabu on her new avatar of Draupadi said: "When Anju approached me with the concept, I agreed to it because it was all about playing a character on the ramp. Draupadi is the character from Indian mythology and I found it interesting".
Delhi Couture Week is organized by Fashion Design Council of India (FDCI), which is provides the designers with one of the biggest platform to showcase their collections.