Rohil Bal and Ashima Leena makes IBFW Day 4 special
New Delhi, Sat, 27 Jul 2013
Amit Kumar
null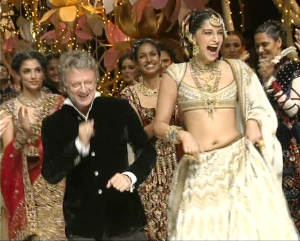 The fourth day of India Bridal fashion Week was quite special as Designer duo Ashima Leena presented their dream collection 'Aalap' creating a great historical abeyance, while ace designer 'Rohit Bal' marked his debut in a fabulous style as he has been always known for, with his collection entitled 'The Mulmul Masquerade' with the best of Indian classics to add to the sublime elegance to his collections.
Ashima and Leena collection were more about celebrating esoteric romance, woven in silken thread and beaten metallic gold to experience the historical era of Delhi. Their offering strived to steal the spell of an opulent past into clothes for today's contemporary princess, as illustrated by ingeniously stitched dhoti-pants which transform sari, cleverly overlapped sheers, and saris and lehngas stitched and draped in innovative styles. Their collection aims to resurrect a beatific architectural legacy with renderings in different mediums.
Showstopper Nargis Fakhri looked stunning in an orange and gold lehenga choli, which gave her the look of a pure conventional bride.
Then came the most awaited time of the IBFW 2013, when Rohit Bal presented his 'The Mulmul Masquerade' collection on his debut that left the spectators mesmerized. Bal's collection was a blend of Indian and Elizabethan eras embedded with rich craftsmanship for which he is known for.
From the pristine simplicity of mushlin to the extreme grandeur of rich velvets, the collection was dominated by rich craftsmanship of both periods. Moreover, from antique gold Kasab Kashmiri embroidery on muslin to Shilbori on fabrics like chanderi and voiles, the look and feel was completely understated and ethereal. The rich jewel tone of velvet combined with the starkness of ivory muslin created an imagery of bridal luxury, which is an integral part of our rich and glorious culture.
Later, Bal rocked the show with showstopper 'Sonam Kapoor' who was dressed in a white-golden mulmul lehenga and looked like a real mughal bride. Bal later danced in the ramp with Sonam in typical Bollywood style, making everyone cheer and whistle for them.
null