Campus Front organizes national wide Signature Campaign against FYUP
New Delhi, Fri, 21 Jun 2013
NI Wire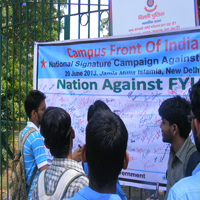 Campus Front of India organized a national wide Signature campaign against the Delhi University's Four Year Undergraduate Program (FYUP) today at more than 100 colleges and Universities Campuses. In Delhi it was organized at Jamia Millia Islamia University, Jawaharlal University and Delhi University.
P.Abdul Nazar National President Campus Front said , "Till date the protest against FYUP was consolidated to the state of Delhi, Campus Front through this Signature campaign has attempted to make it national campaign and it is just a beginning. The Signature campaign was held at the colleges and Universities in Delhi, Rajasthan, Bihar, West Bengal, Andra Pradesh, Karnataka, Kerela and Tamil Nadu. If the FYUP is not scrapped Campus Front will organize massive nationwide demonstrations".
Campus Front condemns the dictatorial attitude of DU VC in implementing FYUP, VC is still continuing his dictatorial attitude even today as Campus Front was organizing a peaceful signature campaign at Faculty of Arts Delhi University, the administration tried to interrupt the campaign but due to the support of students and teachers it was successful.
This four-year programme is an anti-student educational reform that will adversely affect students coming from the SC/ST/OBC/PH and minority communities in many ways. Most importantly it introduces the 'exit-point' policy which legitimizes the dropout rate of the most deprived sections of student who come to this university.
This extra year in the undergraduate programme will add to the financial burden of the majority of students. Further, the changes in the curriculum clearly reflect the the neo-liberal Indian State in collusion with the multinational corporate houses. The major victims of FYUP would be the SC ST and the minorities of the nation.