Gunjan foundation hosts a musical evening with Sitarist Shujaat Husain Khan
New Delhi, Tue, 17 Dec 2013
NI Wire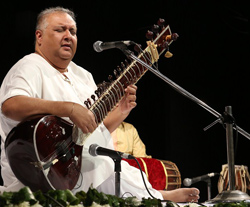 Sushma Singhvi, founder Gunjan Foundation - a Non-governmental social organization hosted a magical night of Sufi music with internationally famed Sitarist Shujaat Husain Khan at Chinmaya Mission, Lodhi Road. The event was organized with the prime purpose to raise funds for the schooling of underprivileged children in the Gunjan Foundation School at DLF Gurgaon.
The event was graced with the presence of Praveen Khan, Azaan Khan, CMD of RITED Rajeev Mehrotra, Shahnaz Husain, Kusum Sawhney and Swami Nikhilananda Saraswati, to name a few.
Gunjan Foundation is a registered non-governmental social organization based in Delhi. This organization was founded in the year 2004 by Sushma Singhvi, with a mission and objective to pursue educational and other welfare measures for the underprivileged section of our society.
Shujaat Husain Khan is one of the greatest North Indian classical musicians of his generation. His musical pedigree extends seven generations. He is the son and disciple of the great Sitarist Ustad Vilayat Khan, and, his grandfather, Ustad Inayat Khan, his great Grand Father Ustad Imdad Khan, and his great great grandfather, Ustad Sahebdad Khan, were all leading artists of their respective generations.
Khan's musical career began at the age of three when he began practicing on a specially made small sitar. By the age of six, he was recognized as a child prodigy and began giving public performances. Audiences around the world are, captivated by his unique style of Sitar Playing his exceptional voice, and his intuitive and .spontaneous approach to rhythm.