Blenders Pride Fashion Tour 2013: Witnessed collections from world class designers
New Delhi, Mon, 18 Nov 2013
NI Wire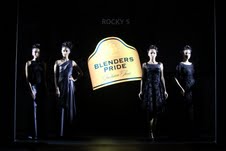 By Manish Kumar
Gurgaon: The 9th edition of Seagram's Blenders Pride Fashion Tour brings back panache and glamour with leading names from the fashion industry to make the world a stylish place. The designers featuring this season at the Blenders Pride Fashion Tour are Falguni and Shane Peacock, Gaviin Miguel, JJ Valaya, Neeta Lulla, Pankaj & Nidhi, Rocky S, Suneet Varma, Tarun Tahiliani, Vikram Phadnis and Wendell Rodricks.
Blenders Pride Fashion Tour 2013 commenced in Chandigarh on September 28th and will conclude on November 24th in Mumbai, an exciting 60 day journey. From Chandigarh to Mumbai, 6 cities play host to the work of 10 masters of the craft, and their spectacular creations, at what is acknowledged as the benchmark for the Indian fashion calendar.
Speaking on the tour, Raja Banerji, General Manager-Marketing, Pernod Ricard India said, "Fashion and trends are ever evolving and it's a challenge to curate the best new work, but we thrive on it. The Blenders Pride Fashion Tour experience across six cities is differentiated and a permanent marker for style in the Indian calendar, and we will deliver on expectations again in its ninth edition in 2013".
After a grand preview in Mumbai that took place on September 17, the eagerly awaited fashion extravaganza kick started in Chandigarh which was soon followed by Bangalore, Hyderabad and Kolkata now turns to Gurgaon over the weekend, featuring Rocky S &JJ Valaya on day 1 of BPFT.
The splendor and characteristic clandestinely of the medieval ages makes a comeback in the Rocky Star collection. Neha Dhupia was the showstopper for Rocky S. Showcasing a highly opulent red carpet collection, Rocky S brings glamour, style, music and fashion together. The enigma and secrecy of the dark holds a certain allure.
JJ Valaya weaves Indian sensibilities with rare and diverging Spanish influences in his collection. Bollywood Actress Chitrangda Singh walked the ramp as show stopper for JJ Valaya. The collection sees fashion doing what it does best; 'make beautiful clothes. It also gets us front row seats to that 'awe and awww' moment, those little gasps of delight that only a JJ Valaya line brings forth.
J"Beautiful has two forms," elucidates JJ Valaya. "It can be mundanely beautiful or interestingly beautiful. Designs can be ordinarily pretty or slightly quirky. I am a lost royal. I'm sure I was one in my last birth. And thus this whole streak of monarchy never leaves my collections. My current line is a story of an Indian Maharaja who goes to Spain and, the little things he picks up from his journey is what comes together in this collection."