Skin care brand Pevonia launches Spa Clinica PRO Micro-Retinol Line
New Delhi, Fri, 15 Nov 2013
NI Wire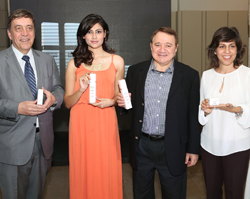 Skin care brand Pevonia recently added a new Spa Clinica PRO Micro-retinol line to its already existing gamut of skin care products. Spa Clinica PRO Micro-retinol line is an absolute anti-aging solution.
Femina Miss India 2012 Vanya Mishra launched the new product line.
The product has been curated using the very popular retinol technology that overcomes instability and irritability.
Pevonia's Spa Clinica Micro- retinol line points its treatment for the youngsters beginning the age of 30. This has been spawned by the growing obsession for skin dishearteningly caused by the environmental stresses and ultraviolet radiations.
Pevonia International President/CEO, Philippe Hennessy during the launch said, "We add Mirco-retinol to the existing list of ours products here for we are convinced Pevonia has already found takers in the Indian market."
"There is no doubt ageing is indispensable but it can always be delayed or rather one can age gracefully and Pevonia's Micro-retinol solution is here just to do that. Another interesting highlight definitely is being a product for even the young people apart from confining to the aged," he added.
The spa treatment features an unsurpassed formula, this high performance treatment combines a deep cleansing, potent yet gentle peel, and Micro-Retinol Treatment to recapture smoother, denser, and younger-looking skin instantly. It's a 50 to 55 minutes high performance treatment priced at 50,000 rupees, which includes 5 treatments over 5 weeks, as well as the home follow-up range that will last for 2 months. What makes it more desirable is the attainment of instant dramatic results.
Spa Clinica Pro Micro-Retinol Managing Director, Pevonia India, Mr F.J Singh exclaimed, "It is indeed a grand honour to introduce Spa clinica PRO Micro-Retinol to our the customers here for it is definite to yield superlative results and most interestingly an instant one at that."