Vivaha 2013, Wedding Exhibition kicks start from 29th November at Ashoka Hotel
New Delhi, Mon, 11 Nov 2013
NI Wire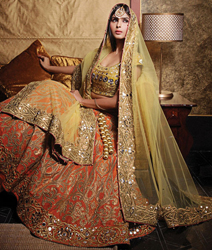 Vivaha 2013, the Asia Most Luxurious Wedding Exhibition will kick start from 29th November 2013 at Ashoka Hotel. "Celebrating Vivaha 2013" is the 13th edition of Asia's largest and most luxurious wedding exhibition, which will took place in capital 29th November to 1st December. The wedding expo will showcase wedding services, bridal wear and jewellery collections from top designers across the country.
This edition of Luxurious Wedding Expo "Celebrating Vivaha 2013" is focused on winter weddings that will showcase the best designs from the well know designers like Mayyur R Girotra Couture, Sagrika Mittal Goyal, Parul and ; Ashie, Sanzany and Portfolio Studio. Every edition of"Celebrating Vivaha" attracts prospective brides and grooms in a large numbers, as it offers them anything and everything they may need, to plan their dream wedding.
The CEO of Celebrating Vivaha, Tarun Sarda says, "When we launched Celebrating Vivaha in 2003, I decided to test the wedding market of the country. I have endeavored to redefine the concept of weddings and wedding exhibitions in India withCelebrating Vivaha. Spurred on by my domestic successes, I plucked the courage to take Celebrating Vivaha international. My aim now is to reach out to more and more people, and get a variety of entrepreneurs directly involved in the business of weddings." In addition to the best of brands and designers, Celebrating Vivaha has added several cities in its ambit.