Tata Motors launches CNG variant of Nano eMax in Rs.2.52 Lakh
Ahmedabad, Wed, 09 Oct 2013
NI Wire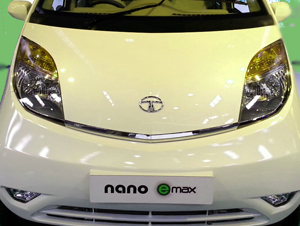 Tata Motors, which had rocked the market few years ago by launching its much awaited ultra-cheap "Nano" car, Tuesday once again came up with its CNG variant with the tag name of "Nano eMax" in India.
Claiming to the be India's cleanest car due to having the lowest carbon footprint and the most fuel efficient car in India with a mileage of 36 km/kg (as per Tata Motors claim) Tata Motors, India's largest automotive company by revenue launched has launched Nano CNG emax at Rs 2.52 lakh to Rs 2.77 lakh ex-showroom Mumbai.
The latest variant of Nano is powered by a fuel efficient, state-of-the-art engine, with CNG and Petrol bi-fuel system options.
Tata Motors said in a statement that the CNG version is priced Rs 54,000 to Rs 87,000 more than a conventional petrol engine Nano, which is priced at Rs 1.65 lakh to Rs 2.33 lakh ex-showroom Mumbai.
The development of diesel version of Nano is underway and the company is currently putting the Diesel vehicle through a rigorous testing, said Tata Motors.
It has also informed that Nano CNG emax is the first of the five brands in the emax series of CNG cars that Tata Motors intends to roll out. The Tata Nano CNG emax will be available across all the CNG markets of Delhi, Gujarat, parts of Maharashtra and Lucknow.
With this launch of CNG version, Tata Motors are expecting that the new CNG version will bring in the incremental volumes in the coming months.
Tata Motors claimed to provide best features in its Nano CNG eMax brand like a touring range of more than 150 km (in CNG), in addition to the existing touring range of 375 km (in petrol), with best-in-class fuel economy of 36 km/kg and with a warranty of up to 60,000 kms or 4 years (whichever is earlier).