FM confirmed about positive economic growth and lowering CAD
New Delhi, Sat, 05 Oct 2013
NI Wire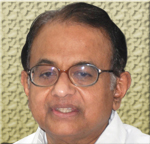 Finance Minister P Chidambaram Saturday expressed his confidence on India's economic growth and cutting down Current Account Deficit (CAD) in financial year (FY) 2013-14 without drawing down on its reserves.
Talking to media after unveiling 101 branches of the State Bank of Mysore (SBM) simultaneously through remote switch, FM said, "The country's economy will recover from stress this fiscal (2013-14) as it has enough the capacity to get over it to post higher growth than last fiscal (2012-13)," Chidambaram said on the margins of a bank function here."
In view of a normal monsoon resulting in higher growth in the farm sector and steps to boost demand in services and manufacturing sectors, Chidambaram hoped the national gross domestic product (GDP) growth this fiscal would be better than last fiscal (2012-13) when it was 5 percent as against 6.5 percent in 2011-12.
"The recovery will enable the economy to grow 6-7 per cent next fiscal (2014-15) and return to 8 percent growth in fiscal 2015-16," the finance minister said.
The economy has been projected to grow at 4.5-5 percent GDP this fiscal (2012-13) as against 5 percent last fiscal (2012-13) due to slow down in the first two quarters.
"The confidence comes from my knowledge of the numbers. The confidence comes from the fact that gold imports have sharply compressed in the months of July, August and September. For example in April, May, June we imported 335 tonnes of gold. In July, August and September, I think the number has come down to about 65 or 70 tonnes. My confidence comes from the fact that exports have picked up briskly and smartly."
Referring CAD, Chidambaram said that he would ensure it is restricted to $70 billion this fiscal as against $88 billion last fiscal.
"Last year, pundits, analysts, rating agencies and all the wise people, who appear on television channels daily, told me that we cannot contain fiscal deficit. I am happy that we were able to surprise them. We did contain fiscal deficit at a level below (4.9 percent) what I had indicated (5.2 percent)," he said.
The Current Account Deficit grew less than expected in the June quarter and is tipped to ease in coming months as a pick-up in exports and lower gold imports improve the trade balance, offering relief to the battered rupee.
On Tuesday, Economic Affairs Secretary Arvind Mayaram said the country would contain the fiscal deficit at 4.8 percent of GDP and added that the government would not have to go beyond the finance ministry's planned market borrowing for the year, and would be able to meet its budgeted revenue target.
The Current Account Deficit (CAD) for the three months through June was USD 21.8 billion, or 4.9 percent of gross domestic product, driven by sluggish exports and high gold imports in April and May before the government hiked tariffs on the metal to a record 10 percent.
Meanwhile, slowing economic growth has dampened tax revenues, making it tougher for the government to hit its fiscal deficit target of 4.8 percent of GDP for the financial year that ends in March.
Economists are now split over whether new Reserve Bank of India (RBI) chief Raghuram Rajan will hike rates again at the central bank's next policy review on October 29.
Many did not anticipate Rajan's focus on curbing inflationary pressures despite growth languishing at a decade-low.
Furthermore, Chidambaram also spoke in detail about the Forward Markets Commission (FMC) issuing show cause notice to FTIL (Financial Technologies (India) Limited).
"FTIL (Financial Technologies (India) Limited) which is a promoter is also under the watch both by the Ministry of Company Affairs and by the two regulators. While NECL (National Spot Exchange Limited) as I have said it is a company. It is not a regulated entity. They are in court. I wish the depositors or the lenders or investors the best. They should exercise and establish their rights under court of law. And those who have committed any errors, I don't know, they will be answerable to those who have put their money in NECL," added Chidambaram.
FMC has alleged that even though borrowers had defaulted on earlier loans, they were allowed to raise money on the NSEL platform.
The FMC on Thursday barred the National Spot Exchange (NSEL) and group firms from auctions of commodities held by the stock exchange after a complaint that firms related to the former Managing Director took part in the bidding process.
--With Agencies Inputs--