Responsible tourism: A new approach towards tourism
New Delhi, Thu, 31 Oct 2013
Amit Kumar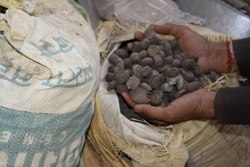 Tourism has been always been fascinating as leisure across the globe and for this many new ideas and concepts have always emerged in successive times to provide the tourists with an amazing experience of tourism.
In recent times, Travel is all about exploring, new places, rich culture, new ideas and sometimes we go the extra mile with experiencing the taste of responsible tourism. Responsible tourism has emerged as one of the favourite tourism choice at present and becoming a global trend very fast.
Mana Hotels of culturally rich region of Ranakpur is one of the ofavourite destinations of responsible tourism lovers as, which provides you another novel experience of Ranakpur - Cottage Industry Visit in collaboration with Camel Charisma.
Camel Chrisma is a social enterprise that seeks to develop, promote and market environment friendly products from the camel, with the purpose of saving this unique desert animal from extinction. Mana Hotels, invites its guests to see how Camel Charisma is making ecological and trendy products while at the same time promoting the interests of the rural men and women in isolated villages.
This experience is the first real attempt at responsible tourism in this part of Rajasthan and Mana Hotels is proud to be associated with Camel Charisma in this endeavor. The hotel uses products that are made by non-government organisations (NGOs) that help people from the underprivileged sections of society.
It is from such organisations, namely Kadam and SASHA that the hotel sources its products used in the décor of the property at Ranakpur. Both organisations work to create new and sustainable employment opportunities at the grassroots level for the vast rural population of the country. Using local resources and skills, the items produced by the two NGOs, reflect the area's cultural tapestry, besides showcasing India's diversity.