33rd Hong Kong Electronics Fair set to start from October 13
Hong Kong, Thu, 03 Oct 2013
NI Wire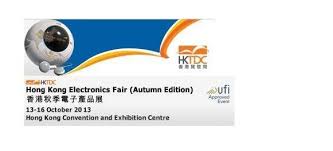 The 33rd HKTDC Hong Kong Electronics Fair (Autumn Edition), the 17 thelectronicAsia and the 15th HKTDC Hong Kong International Lighting Fair (Autumn Edition) will take place this month at the Hong Kong Convention and Exhibition Centre (HKCEC). Some 6,200 exhibitors from around the world will showcase a wide range of products and services at the three fairs.
The Electronics Fair, the largest show of its kind in the world, and electronicAsia will open 13 October and continue through 16 October. Together, they will welcome more than 3,900 exhibitors. The Electronics Fair will feature the new i-World, Packaging & Design and Smart Home zones, along with the return of the Invention zone.
Highlights of electronic Asia, organised by the Hong Kong Trade Development Council (HKTDC) and MMI Asia Pte Ltd, include the Key Components for Smart Devices zone, along with the World of Solar and the World of Display Technology.
The Lighting Fair, the second largest show of its kind in the world, opens 27 October and continues through 30 October at the HKCEC. The fair will showcase more than 2,300 exhibitors in theme areas such as the Hall of Aurora, the LED & Green Lighting zone, the Smart Lighting & Solutions zone, and the Advertising Lighting zone.