Designer Rajdeep Ranawat unveil Spring/Summer 2014 Collections at WIFW
New Delhi, Thu, 03 Oct 2013
Amit Kumar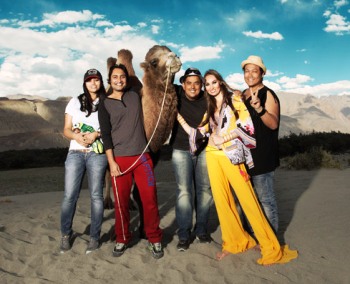 Ace designer Rajdeep Ranawat is all set to unveil his Spring Summer 2014 'Rococo', which will blow you away on a journey to a sultry grove, rich with bamboo thickets, juicy fruits, vivid flowers and exotic birds; intercepted with the lighthearted themes and intricate designs of Rococo.
Rajdeep has this time taken two distinct themes for his collection that has a more jocular, florid and graceful approach. With ornate and strong usage of creamy, pastel-like colors, asymmetrical designs, curves and gold, interlaced with tropical elements the collection has a fresh and unique feel ideal for the spring summer of 2014.
The essence of "Rococo goes Tropical" can be seen through the playfully designed prints and embroideries, which are total works of art. The elements of both are used in such a way as to create a teasing dialogue full of elusive and camouflaging language and gestures; and are further enhanced with flowing yet feminine garment silhouettes. Highlights of Swarovski elements acts as accents through out the collection and hints of intricate sheathing seen through out the collection in motifs of nature add to an element of rococo.
The delightful range of Accessories by Geetanjali Ranawat is a feast to the eyes. With intricately sequined tropical bird inspired clutches, lace and print with leather accent totes further encrusted with dimensional orchids, geometric beaded clutches along with digital print and Swarovski embellished wrist bands. The Bird and orchid headbands too are a treat to be a trend for the upcoming summer of 2014.
The latest photo campaign was painstakingly shot at the stunning locations of Nubra Valley in Leh-Ladakh. The designer and his team travelled all the way to the interiors of the untouched valley to enhance the collection with its breathtaking backdrop of multi faceted terrain, mountain ranges, canyons, sand dunes and rivers with fresh hues to make anyone dream of the perfect summer, that only complimented the colors and motifs of the collection itself.