Top 10 Fashion Trends of the Decade
New Delhi, Mon, 28 Oct 2013
NI Wire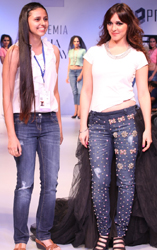 Fashion is often vaguely understood as the attributes of stylization in relation to one's appearance in respect of clothing, outfit and other openly displaying aspects of countenance. While this typical aspect of appearance is intrinsic to what we understand as fashion, it at the same time serves as a pull of social signs to signify the social psyche in its individual avatar. In mentioning here top 10 fashion trends of the decade we just cannot undermine this underlying social aspects of clothing and overall aspects of countenance. While skinny jeans continues to rule the fashion trend for close to a decade it is obviously indicative of our generation's extreme awareness of appearing fit, slim and sexy. On the other hand the typical bohemian look with every wearable being oversized and fashionably colorful or exotic is another trend that portrays our mindset of thinking out of the box and increasing love for holidaying. Pajamas being widely regarded as street wear while in traveling or just for casual strolling is just another sign of our increasing favor for appearing casual, light, bohemian, easy going and moody. From big sized sun glasses to eco friendly fashion wears it all reveals our changing mindset and post-globalized tiredness with the hi-tech reality and increasing fondness for local, exotic and casual. Here are our picks on top 10 fashion trends of the decade.
1. Skinny Jeans
Jeans hugging the skin and perfectly displaying the slim and proportioned lower part from the hip to the ankle is considered part and parcel of sexy look for our youngsters almost univocally. Yes, skinny jeans almost became irreplaceable fashion symbol for a whole generation after the late nineties to this date. The jeans clothing stuff also went through a great array of transformations in respect of flexibility, softness and adaptability with the body movement and most importantly they are more comfortable than those wearable meant to have enough space for more flexibility.
2. Eco-friendly fashion
Eco friendly wearable is not just one of the top 10 fashion trends of the decade but it involves our increasing environmental awareness to the greatest extent. Environmental consciousness is the order of the day, in every sphere of life and fashion and styling of wearable is no different from that. Creating fashion accessories and wearable from bio degradable material and using more environment friendly color schemes, fabric, producing garments with an emphasis on handicraft and local design is something that made eco friendly fashion prominent trend in our choice of garments and wearable.
3. Big Ethnic Necklace
Gone those days when our ladies in the party used to appear with slick and delicate jewelry crafted by a professional hand to provide a sophisticated look. Now wearing big sized necklaces with bigger pendants hugging the chest is the fashion of the day, especially those with a ethnic look to shimmer with stones, jewels and metal crafts that look uncommon in contrast to mass produced fashion jewelries. Having a charm of distant land and ethnicity is something that opens up your personality and let you stand out from the crowd.
4. Belly Bottom Jeans
Wearing jeans to hang on loose around the waist is a fashion mindset that prevailed for quite a long time, especially among the youth. Yes, jeans loosely hugging your waist can allure the eyes of many to your sexy figure while making you feel light on your waist. Sometimes it looks indecent as well, especially if it is worn by a skinny figure, but everything has its flip side, isn't it? People with nicely proportioned waist, that does not permit the jeans to hang too loose and low are just perfect with this fashion trend and make really decent appearance.
5. Leggings
Skinny leggings, especially with shinny leather finish or metallic look, either with zippers or ankle buttons can just make you look goddess in party night or in casual ambiences. Smooth leggings are not only comfortable they let you appear shinny and plush. When it hit the market first time many people predicted that it would show every lump and bump on the skin but how wrong was their perception! Skin tight leggings are now not only fashionable party wear but irreplaceable part of regular outfits.
6. Disposable wear
Somewhere between the high end quality clothing and price aspirations to go cheaper there entered this fashion attitude of buying as many as cheaper and trendy items as to satisfy the aspiration for having more than plenty. But this trend also came with the almost dangerous proliferation of cheap, harmful clothing stuffs and fabrics that swept the fashion scene. 3 shirts at just $50 or 2 handbags with stunning design at an unbelievable price of just $100 may just be satisfactory for your pocket but we all know that quality speaks for itself and so often such disposable cheap fashion accessories or clothing shows of its flip side too early, sometimes in just few days from the date of purchase.
7. Skinny Scarves
Twenty first century fashion in its first and preliminary avatar is a return to the good old days of heritage or to the spirit of classicism. Many fashion symbols and aspects of outfits appeared in this decade that has their closest match in the classical dress codes. Wearing fashionable silk scarves or skinny scarves is not something new, but they only returned with other combinations of wearable. A piece of scarves in smooth casual look can make a prince out of a young man and is one of the top 10 fashion trends of the decade.
8. Pajamas as Street Wear
Going casual had no limit ever and it always depended upon how we want to balance the comfort with look, but when pajamas began to appear as a wearable beyond the premises of the household it actually blurred the so called division between private and public in fashion. Really pajamas as the street wear have been a massive hit in the fashion scene of this decade and continuing to be so.
9. Destroyed Denim
A scratched rugged denim with holes and forked out threads can be the last thing you ever imagined to appear elegant and decent but if you want to gleam like a hipster or want to fathom the easy going personality of a wild hitchhiker, such semi destroyed worn out denim can just give you the perfect makeup and tone. It is simply personality makeup through fashion apparel and is undoubtedly one of the top 10 fashion trends of the decade.
10. Metallic color
Shinny metallic color of steel or copper or silver for a long time is continuing to dominate the color scheme in the fashion apparel, so much so that even in the time of the economic recession there have been a huge dropout in the choice of vibrant colors in dressings, but not in the popularity of metallic color. The shinny cold look of metallic colors in dressings just fosters your personality's tough side and let you look vigorous and dominating.