'Art and Fashion for a Cause' organised in Delhi
New Delhi, Wed, 23 Oct 2013
NI Wire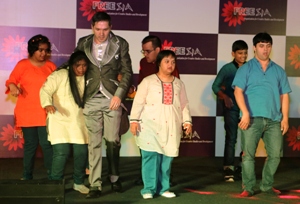 In a new initative to bring art and fashion for a noble cause, Freesia, a charity organization organized a unique function "Art and Fashion 4 for a cause" in the capital, intended to provide the Children with learning disabilities a unique platform to showcase their unique creativity and abilities with country's top designers, which took their creativity to the runway.
It was for the First time that the Leading designers created garments which were hand painted by Special young adults/kids hence giving textile & graphics an opening for them. The organisation has also initiated Photography and Art as medium for better Employment opportunities for the Special people.
Special Kids alongwith the mainstream kids wore the collection and walked on the ramp with equal ease and grace. There was also a remarkable display of Acrylic on Canvas painting- a medium of art that has never been done by any other organization apart from Freesia and an eye-catching photography which was inaugurated by none other than Subi Samuel, an art enthusiast from Mumbai. Bringing in the moves to the event was a dance performance choreographed by renowned choreographer Gilles Chuyen.
An initiative that has been conceived and designed to break myths and misconceptions that children and young adults with special needs belong to a confined zone of their own, said Roma Sahni, Founder Director, Freesia who is an alumnus BFA, College of Art. While talking about the initiative she explained, "I believe that Art can educate the challenged in ways to give them better opportunities of livelihood and it is about time to unlock their talents and help them find a place in arrangements apart from their comfort zones. This is not to sensitize people of their existence but to make people realize that they can fit into any kind of profession if given a chance and avenue."
Joining the one of its kind initiative were celebrated fashion designers Malini Ramani, Varun Varun Bahl, Shantanu & Nikhil, Ashima and Leena and also Freesia's very own line Freesia Junior. This initiative caught the children and young adults with special needs in their creative best as they made hand printed designs and graphics on fabrics. Interestingly enough the fashion wizards left their creative cells aside and used the same fabrics to create their garments for the kids' fashion show that was displayed. One could witness a lot of creativity and talent that went into the creation of the designs as the kids sashayed the runway in those ensembles.
Fashion Designers Ashima and Leena expressed, "I feel so blessed to be able to work in association with these special children. They are bursting with enthusiasm and creativity and everyone needs to give them a chance. That is all they need."
Adding further fashion designer Malini Ramani who sounded equally delighted went on to say, "It was simply impressive to see all the children who are specially blessed loaded with so much of creativity and it would be unfair to let them go unnoticed."
By and large "Art and Fashion 4 a cause" won hearts, dropped jaws and left many awe inspired. Freesia managed to drive home the belief and point that these children and young adults with special needs can never be understated and all they need is to be accepted and allowed to participate unconditionally.