Life for Art Shows How Creativity can be used for Humanitarian Purposes
New Delhi, Fri, 18 Oct 2013
NI Wire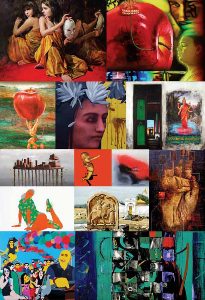 It is said that an artist normally creates works only for his or her own satisfaction, but as the nineteenth century American author Albert Pike said, "What we have done for ourselves alone dies with us; what we have done for others and the world remains and is immortal."
That is the philosophy which moves Aapsa Arts, who are now on the threshold of their second Art for Life programme which will feature not only the works of more than thirty artists, but also performances by some very eminent musicians.
This year's Art for Life is a charitable fund-raising art event for the victims of the holocaust which hit Uttarakhand in the form of ravaging floods. Part of the proceeds of the event organized by Aapsa Art and sponsored by DLF5 and DLF Foundation from 18 to 20 October, will go towards the relief and rehabilitation of the victims of the floods.
The event was inaugurated by His Excellence Dr Aziz Qureshi, the Governor of Uttarakhand. The music concert commenced with renowned sarod maestro Ustad Amjad Ali Khan, who recently gave a special performance at the United Nations in New York to mark the 144th Birth anniversary of Mahatma Gandhi. He was accompanied by his talented sons - and sarod performers in their own right, Amaan Ali Khan and Ayaan Ali Khan.
The second day will see Ghazal maestro and singer Jaswinder Singh and Aalok Shrivastav recite special poetry for Uttarakhand.
The eminent artists whose art works will be on display during the Art for Life Festival will include renowned names like M F Hussain, S H Raza, Arpana Caur, KR Santhana, Manu Parekh, Paresh Maity, Chintan Upandhyay, Roy Thomas, Manish Pushkale, Prashant Sahu, Rajendra Kapse, Sanjeev Sonpimpare, Sidharth, Vijendra Sharme, Pratul Dash, Avijit Dutta, S. Harashvardhan, Dileep Sharma, Birendra Pani, Chandra Bhattacharjee, Farhad Hussain and Murali Cheeroth.
In addition, there will be works of art by Dharmendra Rathore, who created Aapsa Arts with a vision for creating a platform for new media art, and is a room for creative endeavour, aesthetic exploration and visual dialogue. It attempts to discover established and emerging artists, and promote art in rural India, apart from creating social awareness of art. It also looks at ways to create acceptance and greater synergies among artists.
Clearly believing in the philosophy of being humanitarian and not just human, Aapsa has organized blood donation camps in association with Red Cross, taken the initiative to remove social evils like casteism from villages and rural areas, provided medicines and funds to pregnant poor women during the last month of pregnancy, and given funds to provide the mother and the child proper food and care in addition to providing scholarship to poor and hardworking students in the rural areas, especially girls. It has also worked to save the environment by taking the initiative of planting trees in the neighbourhood.
Aapsa Art has also provided a platform to the folk artists in rural areas by exhibiting their works along with modern contemporary artists.
Born in 1966 in Rajasthan to a Rajput Family, Dharmendra Rathore did his bachelors in paintings from the Rajasthan School of Art and later his masters from Delhi College of Art. He gained experience during his college days by working with legendary masters like Ram Gopal Vijaywargiya, and then on miniatures with Bannu ji and Kripal Singh. Sanganeri blocks, prints and carpet weaving from local experts have all helped it hone in his artistic expression and technique.
Dharmendra keeps experimenting and loves innovation as he constantly reinvents the artist in himself, and has found his way in the labyrinths of the art scene in the capital city, winning him several awards and much critical acclaim including a listing amongst come of Delhi's top contemporary young artists.
Dharmendra has participated in many national and international solo and group shows, and was awarded the State Award of Rajasthan Lalit Kala Akademy Jaipur including the All India AIFACS New Delhi and the Outstanding Painting Award All India Biennial Rajasthan, Jaipur.