Indian economy will regain its momentum and growth: Chidambaram
Washington, Fri, 11 Oct 2013
NI Wire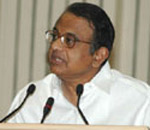 Indian economy will soon regain its momentum and grow at over 5.0 percent, as Indian Finance Minister P. Chidambaram has stated it. He has also added that perhaps closer to 5.5 percent in fiscal 2013-14 despite predictions to the contrary.
Talking during an event here, Chidambaram said that at an average of 8.5 per cent per annum between 2004-05 and 2010-11, Indian economy had registered a decline with a downturn in the global economy in 2011.
Chidambaram further added, "Virtually all the major emerging economies around the world have seen a sharp decline in growth -- the so-called Great Descent."
India had seen a pick-up in exports between July and September; a reversal of the negative growth in manufacturing; and a reasonable rise in freight traffic, indicative of economic activity picking up, he said.
"With very good rainfall in the current year and a sharp increase in the sown area, we expect robust growth in farm output. We have also taken numerous reform measures over the past one year," Chidambaram said.
"We expect these measures to show their impact from the second half of the current fiscal and believe that the Indian economy will grow at over 5.0 per cent and perhaps closer to 5.5 per cent in 2013-14," he said.
Referring to the International Monetary Fund's World Economic Outlook which has lowered India's growth projections to 3.8 percent in fiscal 2013 and 5.1 percent in fiscal 2014, Chidambaram said it "does not share my optimism, but I may tell you that we do not share their pessimism."
(With inputs from IANS)