Diesel price jumps 50 paisa, Petrol Price reduces Rs.3.05 per litre
New Delhi, Tue, 01 Oct 2013
NI Wire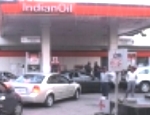 The price of diesel jumps again by 50 paisa per litre as per decided schedule on Monday midnight. But petrol price reduces by Rs. 3.05 per litre exclusive local tax, announced state-run Indian Oil Corporation (IOC) on Monday.
The cut in petrol price will some relief to the pocket of customers but price rise in diesel will increase the dearness.
Union Petrol Minister Veerappa Moily earlier this year had announced that the price of diesel would go up to Rs.10 per litre in equal installments of Rs.0.50 every month.
The IOC said the decrease in petrol price was due to appreciation in the rupee value and reduction in international motor spirit (MS) prices.
"Decrease in petrol price has now become feasible because of reduction of MS prices and appreciation of rupee against the US dollar. Both these factors have resulted in the reduction of MS prices which is being passed on to the consumer," IOC said in a statement.
The IOC also effected an increase in diesel price. The government has asked IOC to do so every month.
"Even after the current increase, under recovery on retail diesel shall stand at Rs.10.52 per litre," the statement added.
The three state-owned oil marketing companies had last raised prices of petrol by Rs.1.63 per litre on Sep 14, 2013. Diesel prices were hiked by 50 paise a litre Sep 1.
In Delhi, the petrol price would decrease to Rs.72.40 per litre. In Mumbai, Chennai and Kolkata, petrol would now be priced at Rs.79.49, Rs.79.51 and Rs.75.68 per litre.
Diesel prices in Delhi will be increased to Rs.52.54 per litre. In Mumbai, Chennai and Kolkata, petrol would now be priced at Rs. Rs.59.46, Rs.56.90 and Rs.56.01 per litre respectively.
The government had deregulated petrol prices in June, 2010. However, it subsidies the retail selling prices of diesel, kerosene and cooking gas to insulate domestic users from the impact of a rise in international oil prices and to contain inflationary conditions.
The state-run OMC is expected to incur under-recoveries worth Rs.73,500 crore on sale of the three sensitive products, while the three OMCs combined are predicted to incur Rs.139,600 crore of under-recoveries this fiscal.
IOC added that it is closely monitoring international oil prices and rupee-dollar exchange rate, the outcome of both will be reflected in future price changes.
--With IANS Inputs--