New Delhi at World's 8th most hated cities: Survey
New Delhi, Tue, 04 Sep 2012
NI Wire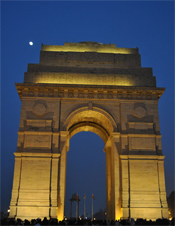 Bad News for Delhiites and those who are willing to visit the national capital of India, as according to a latest survey, New Delhi has been ranked amongst the most hated cities for tourists owing to having a high number of cons and endless incidents of travelers and locals at everywhere.
According to media reports, a recent survey conducted by CNNGo has revealed that New Delhi have a high number of cons and cheats to travelers and locals at airports, train stations, hotels and everywhere.
"There are plenty of cons to be aware of," posted TravBuddy in a blogpost entitled "Scam City: Delhi's Tourist Hustles and How To Avoid Them," which lists several popular ones by name, The "Government Tourist Office" scam; The "Hotel Commission" scam; The "Fake Train Station" scam; The "Airport Transfer" scam, etc.
CNNGo has listed the ten most hated cities in the world by conducting survey in which Belize city, Belize has been declared the 'most hated city' and ranked tenth for having a very high rate of crime, drug dealings and a sense of dilapidation while Cairo, the capital of Egypt has been ranked at ninth place due to high number of protests shows.
Mexico's Tijuana, Sydney and Melbourne in Australia and French capital Paris took the top three places in the list, with Tijuana being voted as the 'least hated city' followed by the Australian cities.
Los Angeles in the United States and Timbuktu in Mali took fifth and fourth positions respectively.
According to the survey by CNNGo, world's ten 'most hated' cities are:
Tijuana , Mexico
Sydney and Melbourne, Australia
Paris, France
Timbuktu, Mali
Los Angeles, USA
Lima, Peru
Jakarta, Indonesia
New Delhi, India
Cairo, Egypt
Belize City, Belize
--With ANI Inputs--