Baba Ramdev's Political and social Campaigns
New Delhi, Thu, 09 Aug 2012
Noor En Ahmed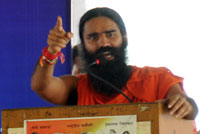 Famous Yog Guru Baba Ramdev after gaining immense popularity as Yoga spiritual mentor, began to vocal on various social issues that probes his political ambition, intelligence and interest. Gradually he began to criticize the political policies of the government and later he decided to go for agitation against government. The prime object of Baba Ramdev's agitation is same as Social activists Anna Hazare's and his team - corruption.
Anna Hazare was firmed on bringing Jan Lokpal bill in the system while Baba Ramdev was agitating on the issue of black money. According to Baba Ramdev, there was a huge chunk of 'black money' staunched in foreign banks, which needs to bring back to India to reduce the debt from the country. Anna Hazare and Baba Ramdev, both were agitating against government on the anti-graft issue, which led the duo to come close from time to time. However, their tie does not go long last as the alleged closeness of Baba Ramdev to controversial Hindu organization Rashtriya Swayamsevak Sangh (RSS) always separates them.
Ramdev, who on March 16, 2010 announced to organize his own political party 'Bharat Swabhimaan Party' to fight election in all Lok Sabha constituencies but later changed his motto. He also declared that he would not form any party but his agitation against corruption would continue under 'Bharat Swabhimaan Andolan'.
So far, he has raised his voice on the following political and social issues:
Agriculture and Dietary Practices
Protest against black money
Anti-corruption rally on 27 February 2011 at Ramlila Maidan
Bhrashtachar Mitao Satyagrah 4 June 2011 at Ramlila Maidan
Agriculture and Dietary Practices
His first movement started against the multinational companies including cola companies, fast food companies and fertilizers and pesticides companies. It was a non-political movement that paved the way of his political movement.
Ramdev had argued that the increasing consumption of fast foods, packed foods and soft drinks increase diseases and various ailments in human beings. Agitating against cola companies, Ramdev said aerated drinks are similar to toilet cleaner and extremely harmful tour bodies as they contain phosphoric acids, preservatives, unknown chemicals and emulsifiers.
Similar, he also opposed to fast food products that are being caused by several deadly diseases likely cancer, obesity, diabetes, heart ailments and kidney diseases. He was mainly against the oil that uses in the making fast foods, some controversial ingredients and preservatives, uses in fast food products.
Agitating against the use of fertilizers and pesticides, he said the use of fertilizers and pesticides has led to an undue economic load on farmers and increased the profits of large business houses involved in the business. Moreover, the use of inorganic fertilizers and pesticides damages our nervous, neuro and nephrological system. Due to this practice, the farming land is also becoming barren, he claimed.
Protest against Black Money
Baba Ramdev, who usually vocal against the black money issue, finally on 27th Feb 2011 decided to go for dharna (protest) at Jantar Mantar against government, which was looking reluctant to bring back the plenty of money. According to Ramdev, a total Rs. 400 lakh crore, or nearly 9 trillion USD, of Indian black money was staunched in various foreign banks including Swiss bank. Most of the money belongs to the ministers, government officials and bureaucrats, claimed Baba Ramdev.
He also estimated that a sum of Rs. 100–150 lakh crore is absorbed in Indian internal economy. He also suggested ways to bring back the staunched black money in India. His movement is still going on as government has not given any solid assurance to him or to country.
Anti-corruption rally on 27 February 2011 at Ramlila Maidan
On 27 February 2011 Baba Ramdev held a large rally of over 1 lakh people at the Ramlila Maidan, New Delhi to protest against corruption. Those present at the rally included Baba Ramdev, Acharya Balkrishna, Ram Jethmalani, Anna Hazare, Arvind Kejriwal, Kiran Bedi, Swami Agnivesh and many others. The most highlighted topic was Indian black money lying in tax havens of Switzerland. A striking feature of this rally was that all the major media houses boycotted it.
Bhrashtachar Mitao Satyagrah 4 June 2011 at Ramlila Maidan
Baba Ramdev on June 04, 2011 began a 'Bhrashtachar Mitao Satyagrah' at Ramlila Maidan over a chunk of issues including issue of corruption, bring back black money, pass lokpal bill, establishing infrastructure to deliver medical and engineering education in Indian Languages, enacting Public Service Delivery Guarantee Act to enable all citizens to avail government/public services easily and quickly, enacting the Kisan Vetan Ayog to establish standards for payment of wages to farmers and classify farming as skilled labour etc..
He declared to go on an Anshan (indefinite fast) on June 4, 2011 at Ramlila Ground Delhi to mount pressure on the Central Government, but in the night of 4 June 2011, a huge police force of 10,000 officers of the Delhi Police and RAF raided the ground when most of the Satyagrahis were sleeping on the ground and Ramdev was also sleeping on the dais along with his core group. The police tried to arrest Baba Ramdev but he managed to escape from the dais in women clothes. After 15 days, he reappeared in Haridwar, Uttarakhand. The administration imposed banned on Baba Ramdev over this entrance into Delhi for 15 days.
Aaitihasik Nirnayak Andolan (Historical decisive movement)
Ramdev launched new agitation from 9th August 2012 and cited it 'August Kranti'. Speaking to reporters on 7 August 2012, yoga guru said that his agitation from August 9 would be a 'decisive one'.