Delhi-Jaipur double-decker train starts from today
New Delhi, Fri, 24 Aug 2012
NI Wire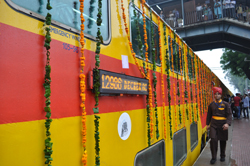 Railway minister Mukul Roy and Delhi Chief Minister Sheila Dikshit flag off a double-decker, air-conditioned train from Delhi to Jaipur on Friday.
The Minister of Railways, Shri Mukul Roy and Chief Minister of Delhi, Smt. Sheila Dikshit flagged off the AC Double Decker train between Delhi Sarai Rohilla-Jaipur from Delhi Sarai Rohilla station today. The Minister of State for Railways, Shri K. H. Muniyappa, Mayor of M.C.D., Smt. Meera Aggarwal and other dignitaries were also present on the occasion. Addressing the gathering on the occasion, Shri Mukul Roy said that the first AC Double Decker train was introduced between Howrah-Dhanbad in 2011 which was found to be satisfactory. He said that with the introduction of this much awaited Air Conditioned Double Decker service between Delhi and Jaipur, the Indian Railways have fulfilled the dream of the travelling public. He said that AC Double Decker coach which has been designed in-house and manufactured at Rail Coach Factory, Kapurthala, a Production Unit of Indian Railways is a noteworthy achievement.
A beautifully decorated train left from at 17:35 hours from Delhi Sarai Rohilla and is scheduled to reach Jaipur at 22:05 hours.
The train will run regularly August 25, 2012. Moreover, the Jaipur-Delhi Sarai Rohilla AC double decker train will leave from Jaipur at 6:00 hours to reach Delhi Sarai Rohilla station.
The train contains all chair cars and has the capacity of sitting 120 passengers in each coach. No of seats in each deck are:
Upper Deck: 50
Lower Deck: 48
On ends: 22
The coaches have been fully designed at Rail Coach Factory Kapurthala. As far as designing of coach is concerned the adjustment of size has been done in the lower portion of the trains as it was not possible to increase the height of the coaches due to old railway bridges.
The Railway Minister said that the design of the Double Decker coaches was a mighty challenge for the Railways as the entire Rail network and coach designs need to meet standard dimensions in length, breadth and height as per bridges, overhead electricity wire, tunnels, etc. It is not feasible to either enhance the width of the coach or increase its height. In keeping with these limitations, the railway officials worked out the design to enable accommodation of 120 passengers in the new coaches instead of 78 passengers in the existing chair cars of Shatabdi type. This makes the air-conditioned Double Decker production a major achievement. More Passengers can thus travel at most reasonable costs with the comfort of air-conditioned travel. Shri Roy said that the coaches of this AC Double Decker are made of stainless steel, which reduces the weight of the coaches. In keeping with the safety of the services, the coaches are designed with anti-climbing technology and have crash-worthy shells. Through the air springs in these coaches, passengers can derive greater ease and comfortable in travel, he said.
Shri Mukul Roy reiterated the commitment of the Indian Railways in delivering greater convenience to its passengers while keeping costs for these increased comforts minimal to the traveler. He also congratulated all the officers and staff of the Indian Railways for their zeal to deliver such convenience and comfortable mode of travel to the public.
Speaking on the occasion, Smt. Sheila Dikshit said that it is a very useful service between Delhi and Jaipur and will also promote tourism. This train will provide a comfortable ride in air conditioned atmosphere to the passengers. She said that more such services should be introduced for the benefit of the people.
The departure time of this daily AC Double Decker train (no. 12986) from Delhi Sarai Rohilla is 5.35 P.M. and arrival time at Jaipur is 10.05 P.M. From Jaipur this train (no. 12985) will depart at 6.00 A.M. and arrive at Delhi Sarai Rohilla at 10.30 A.M. This AC Double Decker train will have two stops on its way namely Delhi Cantt. and Gurgaon Railway Station.
Also present among others on the occasion were Chairman, Railway Board, Shri Vinay Mittal, Board Members, General Manager, Northern Railway, Shri V. K. Gupta and senior Railway officials.
Evolution of AC Double Deckers
Double Decker coaches were first introduced on Indian Railways in 1975 mainly aimed at providing higher carrying capacity in short distance commuter trains